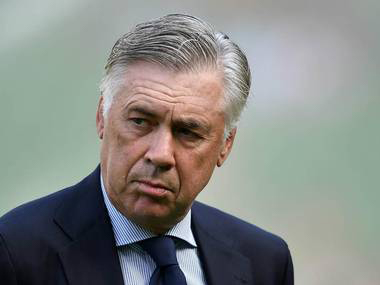 Seasons2020-21Everton News
Carabao Cup Preview

Carlo Ancelotti has a number of options available to him as he plots a course through to round three
Everton continue their busy start to the new season with the first step of what they hope will be a long journey in the Carabao Cup as they host Salford City.
Buoyed by victory in Sunday's Premier League opener against Tottenham, the Blues will be looking to progress to the third round for the third season running (they received a bye in 2017 due to their participation in the Europa League) where Fleetwood Town would be their opponents following their victory over Port Vale.
Despite representing the obvious carrot of silverware and triumph in a competition they have never won in its 60-year history, winning the League Cup offers Everton a pathway to Europe in 2021-22, albeit not to the Europa League but to the playoff round of the new Europa Conference League.

Wednesday's opponents are recent newcomers to the English Football League, having been promoted from the National League last year, the next step in the club's progress under the leadership of Manchester United's "Class of '92" — Nicky Butt, Ryan Giggs, Gary Neville, Phil Neville and Paul Scholes — who purchased them in 2014.
They finished in 11th place in League Two last season and sit in ninth having drawn their first match of this season ahead of their first ever meeting with Everton, a tie that will see ex-Blues midfielder Darron Gibson return to Goodison Park more than three years after he left for Sunderland.
Carlo Ancelotti, who takes charge of his first English League Cup tie in almost a decade since his Chelsea were beaten 4-3 at home by Newcastle United at the third round stage in 2010, faces the perennial dilemma for Premier League managers with designs on the top end of the Premier League table: how many changes to make to a winning team against lower-league opposition.
The question is a pertinent one given that the Blues travelled to London for a late-afternoon kick-off on Sunday, face West Bromwich Albion in the lunchtime game on Saturday and would be in action again a week from now in the cup again should they beat Salford.
Given that, with the exception of Djibril Sidibé, who is no longer with the club, and Mason Holgate, who is ruled out through injury, the Italian could field the same victorious side that Marco Silva did at the third-round stage last year at Sheffield Wednesday without having to use any of his new signings, making significant changes from Sunday needn't be all that risky.
There are inherent dangers in making wholesale changes, as Everton managers have discovered to their cost over the years, but with the congested fixture list, the need to give playing time to fringe players or put others in the shop window, it is expected that Ancelotti will go with a very different side.
Jordan Pickford might keep his place in goal and the lack of options in defence mean that one or both of Michael Keane and Yerry Mina could continue at centre-half — maybe one of then partners Jarrad Branthwaite — but it would not be a surprise to see Jonjoe Kenny and Niels Nkounkou in the full-back roles.
In midfield, all of Gylfi Sigurdsson, Bernard, Tom Davies, Anthony Gordon, Yannick Bolasie, Theo Walcott and Alex Iwobi are in with a shout of starting, with Muhamed Besic and Fabian Delph (fitness allowing) also in contention.
Up front, there might be one more chance for Sandro Ramirez to impress but Moise Kean will fancy himself to start, perhaps partnering Dominic Calvert-Lewin who will be keen for an opportunity to get a scoring run going.
As ever, whichever line-up the manager chooses should be more than capable of beating a team from League Two and there will be insurance on the bench in the form of the first-choice starters should the manager need help in the second half.
Kick-off: 8:15pm, Wednesday, 16 September, 2020
---
Note: the following content is not moderated or vetted by the site owners at the time of submission. Comments are the responsibility of the poster. Disclaimer
 Posted
15/09/2020 at
22:47:20
Lessons learnt, from our previous in the forms of this tornament, and I hope Carlo, puts out a proper team that can win this match.
Build the positive momentum fit this week, and for the season.
It will be interesting to see which players start, hopefully, pride, drive and hunger will now increase in the EFC squad, now we have a trio of solid and reliable midfielders.
Hopefully it will improve the desire in the squad.
 Posted
15/09/2020 at
22:55:30
I Would stick with the same starting 11, then if all going well, make changes around the 65 minute mark.
 Posted
15/09/2020 at
23:08:14
Sandro? Who? He should be nowhere near the matchday squad, let alone considered starting material. Include Besic and Bolasie in that category too. DCL will be rested so Moise will start and get a good 90 mins to impress.
 Posted
15/09/2020 at
23:12:44
None of the new signings should be included in the squad, certainly James and Allen were huffing and puffing before the end of the Spurs game and should be rested for West Brom.
Mina has been a bit injury prone and again should not be included.
I'd go
Pickford
JJK, Keane, Gibson/Branthwaite, Nkounkou
Davies, Sigi, Bernard, Gordon
Kean, Walcott
Give Bolasie a half to put himself in the shop window
Hopefully with the arrival of the new signings and the good performance against Spurs all these players will be up for the challenge and produce good performances
 Posted
15/09/2020 at
23:14:04
Well, I would imagine if we do start with the same team, and they play to the same level, it could be all over by 30 minutes. Then early changes could be made. An unwelcome injury would be a blow.
Hard one to call. The more options we now have, the more permutations. I don't think we necessarily need the same team for the continuity of form, this being very different to the Prem. but the match fitness angle is a help so early in the season.
It should be almost a given whichever team we field – but we've heard that song before.
 Posted
15/09/2020 at
23:21:21
We know what the priorities are and the Mickey Mouse cup isn't one of them. However, winning every game is, so let them do the business here.
Obviously some players from Sunday will be on the bench giving an opportunity to some others who aspire to be regular first teamers especially the youngsters, Gordon, Branthwaite etc.
 Posted
15/09/2020 at
23:28:54
amazing that Brands still has a job really. Spends a hundred million 12 months ago, and we now LITERALLY cannot give any of them away.
And to think he was brought in to sort out the crazy spending (just thank god we got Carlo)
 Posted
15/09/2020 at
23:29:42
I almost feel embarrassed to say this but I have never felt such love for a Manager of Everton, than Carlo Fantastico, and I must hasten to add is a few years younger than I.
I admire his cool approach, his recognition, of what are mostly, useless players through no fault of his own inherited.
I also admire Farhad Moshiri, because he has never walked away from whoever was the Manager, although mostly the incorrect choice, and provided the necessary funds, on the advice of those you would think would know better!
Let's take this Cup seriously for once and get our hands on it, something we have NEVER done before, come close, but no cigar!
 Posted
15/09/2020 at
23:33:38
Derek – easy, Tiger. You're too old for a man crush.
 Posted
15/09/2020 at
23:37:29
I get priorities Tom, but I would never call any trophy Mickey Mouse.
Winning silverware makes a statement. I haven't seen City, Liverpool or Manchester United turn their nose up at this.
And as the article and Derek elude to, it's frustrating that this is a competition that has eluded us. Let's take it serious, end that void in our history and get some silverware back in the cabinet.
If Pep was pleased holding it up last season, I will be this one!
 Posted
15/09/2020 at
23:39:03
Will, it's those eyebrows. Derek can't resist 'em.
 Posted
15/09/2020 at
23:41:45
I would field a strong team to have the game won early then rest players. Too many bad memories of fielding weak teams in the competition in the Moyes era then bringing the players on who were meant to be resting to chase the game.
 Posted
15/09/2020 at
23:41:50
Will@9, Aw come on, give an old man a moment of elation/satisfaction/appreciation/expectation/premonition.
Not quite the Five Boys on the old chocolate bars, whoever can remember them, but not too far away! 🙂
 Posted
15/09/2020 at
23:46:19
Exactly Paul, get the game won then rest rather than gamble only to have to bring players on to try and rescue a game against a likely stubborn defence of a once in a lifetime lead and victory for the opposition that ends up taking more effort out of the players.
 Posted
15/09/2020 at
23:49:09
Eyebrows, old chocolate bars – you guys will give me nightmares.
 Posted
15/09/2020 at
23:59:57
Please Carlo whatever you do, don't start the three new boys. Let them catch their breath in time for the game against West Brom.
Put the deadwood on display in the hope someone might be daft enough to buy them. My team would be:
Lossl
Kenny
Keane
Braithwaite
Nkounkou
Walcott
Davies
Besic
Bernard
Kean
Oh go on then, bloody Iwobi as well just to make up the numbers.
It's the Mickey Mouse Cup against sodding Salford so if we don't win, this lot need shooting.
 Posted
15/09/2020 at
00:05:55
Win this bloody cup, get into Europe, do well in Europe, then qualify for Europe on a regular basis, and it all helps to attract a better quality of player. In four of five years time when the likes of Rodriguez and Allan have either moved on or retired, hopefully they will have been replaced by younger but equally as good players. You have to start somewhere and winning this cup is as good as any, and boy, do we need to win a cup!
 Posted
16/09/2020 at
00:18:23
Colin, agree except no Besic. Not ever Besic.
 Posted
16/09/2020 at
00:29:45
Derek, I remember the five boys by Frys, my favourite was the one with the different flavours in the bar..
 Posted
16/09/2020 at
00:35:33
We need to give our star players a chance to settle in and train fully ahead of the next league game.
Play the expendibles. They need game time and frankly we won't get many chances to give them that / show other clubs just how fantastic they are 🙂
 Posted
16/09/2020 at
00:56:39
Nkounkou and Bolasie have looked lively and interested in the admittedly limited pre season I would give them both a start. Moise Kean is surely a must as is JJK if only to rest Seamus' aging legs.
But lots of firepower on the bench just in case it goes tits up.
 Posted
16/09/2020 at
00:57:57
Hands off, Derek. I haven't felt such love since we signed Bob Latchford!
 Posted
16/09/2020 at
01:09:59
Jesus, forget Sandro. Moise Kean should be nailed on to start and play the full 90 minutes.
On a side note, I quite like the Salford City logo. It looks like a lion Sith Lord (i.e. the villainous counterparts of the Jedi, for any non-Star Wars buffs).
 Posted
16/09/2020 at
01:37:00
USA Blues –
This is being streamed on ESPN+.
 Posted
16/09/2020 at
01:45:12
We know what the priorities are and the Mickey Mouse cup isn't one of them. However, winning every game is, so let them do the business here.
Obviously some players from Sunday will be on the bench giving an opportunity to some others who aspire to be regular first teamers especially the youngsters, Gordon, Branthwaite etc.
 Posted
16/09/2020 at
01:49:33
This will always be the Mickey Mouse cup as long as teams keep putting out the benchwarmers for most of the rounds.
The top clubs in particular don't take it too seriously mainly because it clogs up their fixture list when they have Euro games to play which are more important.
About these ads