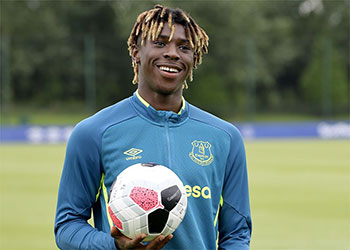 Seasons2020-21Everton News
Updated Moise Kean has joined French giants Paris Saint-Germain on a season-long loan following a successful medical.
The 20-year-old's high-profile move from Juventus to Everton last year has thus far not gone to plan and, following rumours that he hasn't settled well in England, his agent Mino Raiola has been actively trying to secure him a transfer elsewhere.
It appeared as though a return to Italy was the most likely option for Kean, with Juve keen to bring him back to Turin on a permanent deal but their inability to pay the €25m asking price has been a sticking point.
A loan move had been mooted but PSG have stepped in with a loan offer of their own that will see them take Kean for a year but, contrary to initial reports, it seems there is no option in place for them to sign him permanently next summer if all goes well.

Everton signed Kean for £25m believing that they would have a player capable of not only eventually developing into a world-class forward but able to offer the Blues a source of goals in the short term as well.
He struggled to make an impact last season during what was a difficult period for the team as a whole and he scored just twice in 34 appearances but he made just eight starts in all competitions and he was often thrown on very late in matches.
Kean's switch to Ligue 1 doesn't satisfy Everton's own cash-flow needs but it will net them an as-yet unspecified loan fee and provide the player himself an opportunity to try and reignite his career in with a different club.
Marcel Brands is believed to be exploring options to bring another striker to Goodison Park before the transfer deadline, with Napoli forwards Fernando Llorente and Arkadiusz Milik both being linked.
---
Note: the following content is not moderated or vetted by the site owners at the time of submission. Comments are the responsibility of the poster. Disclaimer
 Posted
04/10/2020 at
14:34:45
Lets hope there is a guaranteed fee clause so we can get some money back because l cant see where his game time is going to come from. We need another striker in now.
When you consider the fact that other teams now have Europe to contend with, if we can keep our first choice players fit, we can stay up there!
 Posted
04/10/2020 at
14:36:25
Good luck to the lad. Has never looked like he has what it takes to make a mark in the Premiership & acts like a big "sulk" too often for my liking. Hope he can make a fist of it for himself somewhere else but I don't think we'll miss him.
 Posted
04/10/2020 at
14:40:32
French league may suit him better. We have to recoup any losses on him.
 Posted
04/10/2020 at
14:43:14
A shame.
 Posted
04/10/2020 at
14:44:08
Raiola must have a fair bit of leverage with PSG to persuade them to take the mardy bugger.
 Posted
04/10/2020 at
14:48:07
Nuts one this, only 3 first team strikers on the books and we're letting one of them go for a loan!!?
Hoping there's a surprise lined up, because this leaves us very short in a key area of the pitch.
 Posted
04/10/2020 at
14:53:01
He didnt want to be here so he has to go, who next as back up for DCL llorente, milik, josh king, and I would try and bring romero in and drop that clown of a goalkeeper while where at it.
 Posted
04/10/2020 at
14:53:07
He's a player I've always been willing to do well but it never seems to happen! Beattie, Jelavic, Tosun but every time you watch him play, you're eyes don't lie and you resign yourself to the fact he's not very good!
Not sure how much game time he gets at PSG? They have lots of top forwards!
Hope he does play and scores a shed full so his value increases? So we can get all the money back! As failure at PSG and his value plummets!
We must have a striker lined up to replace him in the squad?!
 Posted
04/10/2020 at
14:57:21
A shame. I had high hopes for the lad and do believe theres a player there. Psg seems a weird option considering they have mbappe and icardi in that position already!
 Posted
04/10/2020 at
15:01:02
Agree with Stephen #7. That does leave our forward line very thin, unless we consider Tosun and Sandros as options, or move Richarlison in when DCL is not available.
But to move Richarlison in, I think we will lose on the dynamism of his play coming in from the left. So unless we are getting someone else in, it'll be trying to rotate players like Bernard, Iwobi and Gordon on these flanks, while Richarlison plays up top.
 Posted
04/10/2020 at
15:02:49
He has looked like a piss poor version of Balotelli so far but maybe will change his attitude in France?
I wonder will Tosun ever come back to do a job for us.
 Posted
04/10/2020 at
15:06:06
I had Hope's, aw talent is there. Surely a striker must be coming in as we are left with only one out and out striker.
 Posted
04/10/2020 at
15:08:31
Elsewhere on the site I saw someone mention that Carlo has said that we are in for "a big surprise" on Monday. Don't know what this was alluding to – but the speculation seems to be another big signing.
Fingers crossed.
 Posted
04/10/2020 at
15:11:05
In his brief tenure with us he hasn't shown anything that makes me believe he will develop into a decent player. Hid body language seems to say it all. I wish him well with his new venture.
 Posted
04/10/2020 at
15:12:38
Nowhere near as good as his publicist. We needed the new Lukaku and got a second tier Balotelli who believed too much of what his publicist said. Arrogant, too. Could also say we overhyped this move.
it can obviously be difficult for a young player moving to a new country and our record here isn't great – Klaasen, Sandro – but most clubs have flops. Perhaps, it is wiser to look for slightly older players from abroad. Allan and James have settled in very quickly.
I'd assume a more established striker is coming.
 Posted
04/10/2020 at
15:12:42
A hero to no-one but himself. I hope he sorts himself out because he has huge talent, but it could all go to waste if his attitude stays the same. He may end up being Balotelli mk2.
Meanwhile, we need a striker! If DCL gets injured we haven't got anyone to put in. Danny Welbeck might be available? Get Rondon back from China? Seriously though I really hope we get someone before deadline tomorrow!
 Posted
04/10/2020 at
15:16:39
Pete, for a second, you had me there! Danny Welbeck
 Posted
04/10/2020 at
15:18:31
Milik from Napoli, although I imagine having seen how good a start Allan has had not sure they'll be happy to let him go cheap.
 Posted
04/10/2020 at
15:23:03
Will, it might have happened in the past. I hope nothing like that happens now!
 Posted
04/10/2020 at
15:23:27
I'm going to miss the happy smiling face we saw every time he scored.
Arrivederci Moise. Non lasciare che la porta ti colpisca nel culo mentre esci.
 Posted
04/10/2020 at
15:24:44
Mismanaged by his agent?
Hard to know when the ball is coming in when Mbappe and Neymar like to beat a man before a fancy pass comes in.
Chances of him getting in front of them two as the main man won't be that easy.
Ah well, I'm pretty sure Carlo will find a very good and ready made second no.9 striker or right striker to take us forward another step.
 Posted
04/10/2020 at
15:25:13
What is meant by leaving our forward line thin? Haven't we got Tosun, Sandro and Bolasie? Oh yeah
 Posted
04/10/2020 at
15:27:34
Need a big striker as back up, pref one who can also play in goal if needed 🙂
 Posted
04/10/2020 at
15:28:56
Be interesting to see who we sign to replace him. Possibly some 33 year old journeyman on loan for the season? Definitely need a striker on the bench though.
 Posted
04/10/2020 at
15:29:34
Twitter says Milik/Llorente. I say Edouard.
 Posted
04/10/2020 at
15:29:50
I like Kean. He'll score a lot with PSG, I expect although he's going to get tonnes of chances there. Very good movement, some glimpses and just starting to relax a bit with his finishing. Obviously it'd be great to pick up a cover player of quality like Edouard but surely that is dreaming? Llorente on loan seems possible – perhaps along with Simms? Seems more likely if the loan has no option to buy – because he'll be back for next season quite possibly with goals and games under his belt
 Posted
04/10/2020 at
15:31:33
I'd be surprised if this was sanctioned without at least a loan replacement, but to be honest its not like we've missed much. Kean has had a chance under successive managers (Silva, Ferguson and Ancelotti) and whatever the reason he just hasn't looked up to it.
From the 'non-football' news though, it did seem like there were also some sizeable 'maturity' issues. If only we could move on our other 'punts' so easily!
 Posted
04/10/2020 at
15:37:32
I'd be surprised if Milik came in to sit on the bench. Edouard and Llorente seem more likely.
 Posted
04/10/2020 at
15:38:13
I thought there must have been a player in there and was really willing him to do well.
I understand it must be really difficult for most 19 year olds (most people in fact) to move to an unfamiliar country. However, he has stunk the place out from day one with his football and, to me at least, what seems like a really negative attitude on the pitch.
The kid seems to have a stupid ego (completely unjustified) and one of the most sullen personalities I have ever seen on the pitch for Everton. He just needed to pull his socks up, snap out of it and put the hard work in. He didn't seem willing (or capable) of that though.
Wish him all the best for his future and maybe it was just that he didn't like the UK (who could blame him at the present time!) I just hope we can get the money back – I suspect not though.
Massive concern if we don't have another striker incoming.
 Posted
04/10/2020 at
15:38:39
Never looked like a good player to me. A massive disappointment. Hopefully we can get our money back
 Posted
04/10/2020 at
15:39:25
Edouard would want assurances of getting a game surely ?
 Posted
04/10/2020 at
15:42:29
Moody sod this one, watched him on the box. Even when he scored he had a face like a smacked arse
 Posted
04/10/2020 at
15:46:14
Fair point, Darren, but I'd like to test him out. I wonder if some players might just fancy us right now? Whoever gets him will have a top striker. Ignore that 'shit league' bollocjs, he's very good. The Milik/Llorente angle on Twitter is all about them both being ex-Napoli and Llorente bring old enough to be a happy bit-part player.
I'll happily trust Carlo right now, whoever he gets. And I'll trust Brands to chisel a good deal.
 Posted
04/10/2020 at
15:47:42
The is just so little patient in football these days. We gave DCL bags of patience, why not some for this lad.
 Posted
04/10/2020 at
15:48:02
First time I saw him in the flesh (Sheff U or Rotherham at home, can't recall) I thought he wasn't right – seemed to be very bulky around the middle with almost an awkward running style. I'd be very happy with experience of Llorente.
 Posted
04/10/2020 at
15:54:52
Steven 35
By "us" do you mean the club or ToffeeWeb? Carlo said Saturday he wanted to keep Kean but Kean had "his own ideas."
Personally, I think Raoila saw a payday, Juve needed money and sold him on a Premier League dream. He didn't hit the ground running as he and his agent expected so he's basically swapped being super sub at Juve for occasional sub at Everton. It's a long way from home, not as prestigious and the weather sucks.
So he has engineered a move away. Nothing Everton can do about except force him to stay against his will or throw him to the Wolves starting instead of better players neither of which makes much sense
 Posted
04/10/2020 at
15:55:41
Has all the attributes to be a good player but needs to sort his head out. Too easy for these players to move on when the going gets tough rather than dig in and train harder. Not made it at Juventus, not made it at Everton, PSG . ? When will he start looking in the mirror and seeing his problem.
 Posted
04/10/2020 at
15:56:13
Good luck, son – you will need it at PSG. If he thought he wasn't being treated fairly at Everton, wait till he goes there.
One things for certain he needs to stop sulking or he will end up on the scrap heap before he knows what's hit him. He needs to realise how fortunate he is. Knobhead comes to mind though. We need another striker ASAP.
 Posted
04/10/2020 at
15:58:26
I'd be happy with Llorente. The sort of fella who comes in nice and relaxed and nothing to prove, but who could make a difference in games. I'm sure we've got it boxed off anyway. Plus Godfrey – what a window.
 Posted
04/10/2020 at
15:59:15
Mercenary. He's not interested in developing his football skills just his bank balance. Not good enough.
 Posted
04/10/2020 at
16:01:15
Someone was saying Richard Keys thought Everton should sign Deeney instead of James. Maybe get Troy in. What a dream team that would be….
 Posted
04/10/2020 at
16:02:10
Steven (35),
Because Calvert-Lewin earned that patience by turning in good performances even if they didn't translate to a great initial goal return. Kean has not turned in much of any real note, and for a much celebrated £25 million player that is a huge concern.
I will be delighted when and if he leaves as I do not see any evidence that he will be able to be a success in the Premier League.
Robert (26) – What is it about Kean that you like?
 Posted
04/10/2020 at
16:03:05
I see a very young lad who was hounded out of Italy by racist yobs (and teammates) and ended up at a mid-table Premier League club in a complete mess and with 3 managers and a pandemic to cope with. I see a young lad trying too hard and needing to relax, with the odd glimpse of a big talent.
If Mason Greenwood, for example, had been similarly hounded out of the UK and ended up at Sampdoria, how do you think he would have got on?
Like Calvert-Lewin, he needs time.
 Posted
04/10/2020 at
16:08:21
I had such high hopes for Kean but he hasn't shown the quality or desire.
Without a doubt a new striker will be coming in if he goes to PSG.
 Posted
04/10/2020 at
16:11:18
Watching the way Dunc praised his players and hugged and kissed them, I was surprised to see his totally different attitude with Kean, who he ignored when subbing him. I knew there and then something wasn't right.
If Carlo gives up on a fellow countryman, it must be serious, especially the way he seems to praise the likes of Calvert-Lewin, Davies and even the Billy Smart apprentice we have in goal.
I personally haven't seen anything in the lad that would make me want him to stay, and it looks like we have a very happy dressing room right now, and his departure should ensure it stays that way
 Posted
04/10/2020 at
16:12:18
Andrew, I like his excellent movement in particular. And the qualities that Brands, Ancelotti, Tuchel and the Italian national set up also like.
 Posted
04/10/2020 at
16:12:58
PSG know they're losing Mbappe, so maybe see Kean as a possible replacement so will test him out.
It's gone terribly wrong, and can't see him succeeding here. But I wouldn't be surprised if he did well there. Equally, he could do nothing. We need him to do well. If he fails, we'll struggle to sell. A couple of Champions League goals and we could get a profit.
He'll mainly be back up I assume.
Wonder if we'll be in the market for anyone before Monday, or someone from the Championship after (Sarr, Benhrama, King).
 Posted
04/10/2020 at
16:12:59
The patience the club gave to Calvert-Lewin was grated via giving him decent game time (and tolerating little in the way of goals); Kean gets 10 mins every odd game or so. I'd prefer him as backup to Calvert-Lewin rather than have some guy with one foot in retirement.
Kieran #37,
I do take your point if his agent wants to move him on, and he himself is impatient or unhappy, but just feel we could shine if given a bit more of chance.
I just look at few cases like Klaassen (admittedly stupid to buy 3 No 10s), and Vlasic. and think, patience may payoff.
 Posted
04/10/2020 at
16:14:06
I've not see anything in his game to warrant Italian caps, Juve, a £25M transfer fee or PSG.
Irratic finishing, poor hold up play, not much movement. Has a lot to prove.
 Posted
04/10/2020 at
16:15:29
I very much agree with Robert #44. The lad hasn't had much of a chance. I think he could be very good with a bit of time and experience. Far too early to write him off.
 Posted
04/10/2020 at
16:16:28
Is he going to get any playing time at PSG?
What's the point of a loan move if you just shift the location on the globe where your ass gets splinters?
 Posted
04/10/2020 at
16:18:20
Whoever we sign will get minutes, that's for sure. None of our front 3 will be able to play every game, especially not 90 minutes. Good players want to join good teams, and they want to play at places they know they'll have to perform to get/keep their place.
I see Cavani is in talks with Utd – imagine if we could Gazump them, the lure of Latin American culture at the Club and Ancelotti as manager. Imagine Cavani and James together.
 Posted
04/10/2020 at
16:19:29
Robert (47) – Beyond his movement – which I think is generally pretty poor – what do you like about him? I'm intrigued, and would appreciate hearing your actual thoughts rather than you just blithely grouping yourself in with Brands, Ancelotti, Tuchel and the Italian set-up.
The one thing I like about him is his willingness to shoot early and take defences by surprise. Beyond that I am struggling.
 Posted
04/10/2020 at
16:24:42
Carlo was happy to give Gordon a chance, but appeared markedly reluctant to start Kean. That has spoken volumes for me. If he doesn't want to play for us, let him go. If he goes to Calvert-Lewin, good luck to him.
The Calvert-Lewin comparison is a false one. Calvert-Lewin has been trusted by four managers and shunted all over the place, staying clearly committed to the cause.
 Posted
04/10/2020 at
16:24:54
A good move for both parties really and hopefully he does enough over there to warrant a decent fee next year.
He's not cut out for the Premier League at this stage in his career, maybe further down the line he will return to England but he's out of his depth right now.
All I've seen is too much of an individual and not really a team player which goes completely against what Carlo is trying to develop at this club now, a real togetherness has been apparent recently, Kean doesn't strike me as mature enough for that yet.
I wish him good luck over there, I hope he does well but I do think he's going to need to change his attitude if he's ever to be anything other than another mood swinger like Balotelli for example.
Hopefully we can get in a short term replacement that will help out for a season.
 Posted
04/10/2020 at
16:26:37
Do PSG need a goalie?
 Posted
04/10/2020 at
16:28:22
I just Googled PSG's roster.
Mbappe, Icardi, Neymar.
How in the world is Moise Kean going to get any time at PSG? How does this further his development?
I honestly don't watch other leagues much at all. So maybe there's something I'm missing?
Wouldn't Moise have benefited going to a smaller club and being the main man? What is the point of this move, other than to offload Moise?
 Posted
04/10/2020 at
16:29:56
If we go with what we know to be true because we've all seen it; Kean does not control the ball well, does not play with his back to goal, does not command his centre-half, struggles to keep control of the ball on the move, struggles to shut down and press from the front, does not impress Big Dunc as a striker (which may be attitude rather than pure talent as Dunc was not the most talented himself!) and does not score. For those reasons, the Premier League is not for him.
What we don't know is; if he has an attitude problem (facial expression suggests he's miserable but who isn't at 19?) if he trains well, if he's popular in the dressing room, if he's settled into the area, if he has friends, if he is a friend to others. We can speculate, and do, but we don't know these things, so let's leave it out on a the kid and keep it what we do know.
And that is, he's not going to make it here, so let's recoup what we can and move on.
 Posted
04/10/2020 at
16:34:49
Too soon and too young, never looked happy and maybe homesick whether PSG and its cities bright lights will make a difference who knows.
I am more interested in who we will be bringing in as we need another striker, I am sure Carlo and Marcel have it covered.
Mr Peresic who has played as a second striker as well as on both flanks would be nice, on loan? this could yet surprise.
 Posted
04/10/2020 at
16:38:40
Good move for all parties involved. I gave up on him after he scored his pen and looked like he'd just been given a death sentence. Raiola will be getting a nice wedge again.
 Posted
04/10/2020 at
16:43:26
Not surprized about the PSG move, they have a habit of buying 'names'. I'd imagine they are looking long term as M'bappe looks like to be on his way out next season.
 Posted
04/10/2020 at
16:45:19
PSG will be focussing 100% on Champions League, meaning Mbappe and Neymar will likely be rested in the condensed league campaign. So he'll possible get more games for them than he will for us. And they get a year to run the rule to see if he can replace one of Neymar/Mbappe
 Posted
04/10/2020 at
16:45:27
We paid far too much in my opinion for Kean, he has done absolutely nothing for us…
I trust Ancelotti to bring in a good striker but trust Brands to bring one in that's another matter altogether…
 Posted
04/10/2020 at
16:45:34
I think he came here expecting to be in the first team from the off. Had his face put out of joint when he discovered he had competition and would have to fight for his place. Due to DCLs form he hasn't had a look in and possibly due to his inexperience didn't know how to handle the situation he found himself in and when picked he always looked like he tried to hard.
I sincerely hope he gets game time at PSG and the Kean we thought we had bought comes to the fore and he starts scoring goals. If he does, it can only be a win win for both him and EFC. We get a player back with restored confidence who can contribute and a player with a higher transfer value we can sell. if he decides he wants away from Goodison Park.
 Posted
04/10/2020 at
16:48:01
I meant to add that Siggy and Llorente played very well together at Swansea. Also Llorente won't be rocking the boat demanding game time either.
 Posted
04/10/2020 at
16:48:44
Another genius move by Brands, a loan swap with Mbappe…
 Posted
04/10/2020 at
16:53:18
Colin G @61, The heading photo shows him smiling, presumably it was when someone showed him his Bank Balance. Because as many have already mentioned if you can't smile when you have scored a goal, there is something drastically wrong.
I too get the impression he didn't want to be here, if you can't get motivated under Carlo Magnifico, who can speak his native language, and with all his excellent signings thus far, there is something amiss and time to be shipped out.
 Posted
04/10/2020 at
16:59:55
An interesting couple of days and hopefully we can get some additions to the squad.
Something never clicked for Moise at EFC, but good luck to him, there's a player there somewhere.
 Posted
04/10/2020 at
17:04:24
I'd much rather trust Carlo Ancelotti, a man with a decorated career glistening in silverware, to bring in signings than Marcel Brands.
Brands came in roughly the same time as Silva during summer of 2018 with all this rave of being able to change things for the better and had this supposedly great track record of scouting players but he's been a pretty dismal failure much in the Steve Walsh mould.
My advice, leave it to Carlo lads!
 Posted
04/10/2020 at
17:16:54
No idea why we signed him in the first place he looked very ordinary from his Juve snippets scoring mostly tap ins that grandma would slot and his first touch is awkward to say the least
PSG have their heads screwed on taking him on loan clearly aware he could easily vanish into the colossal list of over hyped also rans.
Money thrown down the drain this fella
 Posted
04/10/2020 at
17:26:20
Well this kid makes Aaron Lennon look happy. Can only imagine he is homesick or has been mislead regarding his chances of first team football.
I do think he has potential but he has had opportunities and franky, he hasn't made the most of them.
We obviously don't know what goes on behind the scenes but he clearly is not a happy bunny, so he may as well bugger off.
 Posted
04/10/2020 at
17:37:34
I don't understand this AT ALL, if someone was offering us our money back then yes but otherwise I fail to see how a loan to PSG or Juve makes sense, he wont play much thus how will he increase in value?? His attitude must really stink at FF for us to be considering this. I think he has largely looked massively overrated what's all the fuss about? Poor touch, poor attitude, doesn't seem to be clinical WTF??
 Posted
04/10/2020 at
17:37:58
Hard to believe he only played three less games than Niasse for Everton, with Niasse scoring twice as many goals.
Give Niasse one thing, he bloody well got stuck in and made a nuisense of himself, shame about his lack of ball control but he certainly knew how to smile when he banged a goal in.
 Posted
04/10/2020 at
17:41:02
Sulking. Arrogant. Attitude. I'm even reading a couple of Balotelli comparisons, obviously because he's Italian and Black and didn't smile after he scored.
What utter crapola.
Everything the young man did on the pitch showed good attitude. Excellent effort and work rate, making the runs, getting into scoring positions and trying to impose himself physically at every opportunity. Yes, he lost his scoring confidence and things didn't work out, although a couple of inches the other way and he's got three against Salford instead of one.
And there was absolutely nothing of the Balotelli misbehavior in him, no confrontations or tantrums or fighting with teammates or violent conduct or anything like that. Nor has there ever been the slightest indication that he will ever behave that way. To put it bluntly, I find the comparison shameful.
Best of luck to the young man and I look forward to the unveiling of our new forward, whoever it is.
 Posted
04/10/2020 at
17:43:04
I can see Zaha now him or Rich up front or from the left
 Posted
04/10/2020 at
17:44:59
We will look after your son Mrs Kean!!!
 Posted
04/10/2020 at
17:47:31
Steve, he'll be off the wage bill is the only bit that makes sense.
 Posted
04/10/2020 at
17:52:37
Balotelli comparisons are off the mark. Balotelli was well established for club and country and came to city as a marquee signing. He then chose to act outrageously and ruin his career. Kean came as potential if he looks sulky Anelka is a better comparison if facial expressions are indicative of talent and attitude.
 Posted
04/10/2020 at
17:56:45
Steve Shave
I imagine the hope is he shows some form at PSG and we can offload him at decent money presently we wouldn't get much for him.
The excuses trotted out that the Prem is too difficult and homesickness is playing a part could be resolved by a move to the noddy french league just a few hours drive from northern Italy.
Personally I doubt it because he doesn't look a player but I can see the thinking.
 Posted
04/10/2020 at
17:59:52
Mike #76. I think it might have been yourself who put me right when I posted a comment (Live Forum?) about Kean looking as if he lacked match fitness when he first came on in a game for us. As you rightly said, and I quickly realised re Kean, so-called body language can be deceptive – it is his natural running style. We can read too much into things.
 Posted
04/10/2020 at
18:00:05
Mike (76) – I completely agree that comparisons with Balotelli are totally wide of the mark. Balotelli is a very naturally gifted footballer who on his day is a world-beater.
 Posted
04/10/2020 at
18:01:14
Strange move. He won't get a lot of minutes there and there's no option or obligation to buy which is usually included if trying to shift a player.
As far as replacements go I'd love Edouard but he'll cost £25m+ and we surely have no money left.
Milik is decent but surely won't fancy bench duty.
If Josh King is available for around the £10m mark I'd be tempted as he can play across the front three.
Or maybe they think Ellis Simms deserves a shot?
 Posted
04/10/2020 at
18:07:59
Llorente!? What is he? 40? Go for someone younger Marcel (or should I say Carlo?). Don't forget to bring in a keeper too.
 Posted
04/10/2020 at
18:11:01
Richard @59
"which may be attitude rather than pure talent as Dunc was not the most talented himself!"
Actually I remember a quote from one of his teammates that the most naturally skilled with a football in training was Dunc. He was, as the saying goes, good with his feet for a big man!
Moise Kean however, is not. He may be good in the Serie A but it doesn't work for him here. Sadly – I had high hopes.
 Posted
04/10/2020 at
18:12:46
Carlo's said in a couple of interviews he wants a smaller squad. I'd be surprised if he didn't agree to this move. While we only saw Kean intermittently presumably Carlo had seen enough. With Raiola as an agent no player who's unhappy for any reason is going to stick around. Both parties move on and hopefully this helps us eventually get a decent fee for him.
 Posted
04/10/2020 at
18:24:20
Moise Kean is a bit immature and still too raw, I can see him coming good in a year or two's time at 22 or maybe 23 . There is definitely a striker in there waiting to pounce.
He has gone to high profile club and will be mixing it with the likes of Neymar and Mbappe so hopefully he bangs a few goals in and either he comes back a better player or we get our investment back.
I think Carlo and Brands have either Llorente , Milik or another decent forward lined up to replace him. Carlo talked about maybe a last day surprise , so possibly Lozano on loan ?
 Posted
04/10/2020 at
18:32:51
Andrew #83, no surprise that you've ignored the point of my post.
And if you think Balotelli is still a "world-beater" on his day, you're stuck in a time warp. I believe DCL has scored more goals in the last three weeks than Balotelli has in two years.
 Posted
04/10/2020 at
18:33:39
I can't see him getting much game time at PSG, but hope it's a loan, and buy at the end of the season. We definitely need a replacement tomorrow, as Sam says, Josh King wouldn't be a bad alternative.
 Posted
04/10/2020 at
18:33:43
Obviously Carlo must not think him suitable for the Premier League and Kean wanted a move back to the continent. Juventis wanted him for less than what Everton had paid for him. PG have come in and it is a opportunity to showcase him and hopefully keep up his value. The problem is If he doesn't make the grade he could become another Sandro. It's looks like the observations that he was not happy at Everton are correct.
When he is off the books it is the opportunity to bring in a suitable striker and hopefully Bolaise or Walcott or Besic or all three are moved out, That leaves Tosun when fit for a move back to Turkey to live like a king with his millions. Didn't he do well.
 Posted
04/10/2020 at
18:34:13
Mike (76). Covid lockdown party with hoes and bros? Not exactly the choirboy (or maybe your choir rolls that way)?
 Posted
04/10/2020 at
18:35:16
Never got much of a chance. Played a lot at Juve, Italian international and now PSG see something in him. Needed more of a chance here.
I will not speculate about his work-rate in training, how happy he is in the locker room, or whether he and/or his agent forced a move. I never saw him do anything that reflected badly on the club. I wish him the best.
 Posted
04/10/2020 at
18:49:09
Can't really go along with this nostalgia or homesickness, as a possible reason on two accounts.
He came to us as part of an escape against racial abuse in Italy, he was made to feel more than welcome by the Goodison Faithful, remember the banners (in Italian) with his face on them. These were regularly displayed when fans were allowed into the ground.
By moving to PSG, which the last time I checked was in Paris, France, not Italy so another reason to question the homesickness tag!
 Posted
04/10/2020 at
18:52:56
I like when people say Kean simply isn't good enough, which is why he's off to… *checks notes*… PSG? Okay. I also like when people say he's shown us absolutely nothing, when he's scored in each of his last three starts and added another goal off the bench in his last league cup match.
I agree with Mike (76). If he doesn't want to be here, fair enough. But people seem to be drawing some pretty definitive conclusions based on body language and facial expressions that are no sulkier than Richarlison's 90% of the time. And the Balotelli comparisons are just lazy.
Anyway, I like that this appears to just be a loan move, with no option to buy, as I'd rather we maintain flexibility with a player who's still very much a potential asset. I have no idea if he'll get more playing time at PSG than he would have here, but let's see what happens. And I have to assume we have a replacement lined up, because it would be crazy to sanction this move with no real cover at striker.
 Posted
04/10/2020 at
18:58:30
Poor attitude, not as good as he thinks he is. Never seen him do one thing in a blue shirt to make me think he was a decent player.
Arriverderci
 Posted
04/10/2020 at
19:04:35
Latest on the rumour mill, according to the 'Newcastle Chronicle' is a swap deal with Newcastle, Walcott for Allan Saint-Maximin, if true it makes sense then to loan Kean to PSG.
 Posted
04/10/2020 at
19:06:06
Sean #92, hahaha! Actually my choir is a bunch of tough-ass old people. It includes a half-dozen combat veterans, two maximum-security prison guards, and a soprano who was a CIA station chief in Berlin when the wall came down. We sing haaaard.
 Posted
04/10/2020 at
19:06:51
Shame it's not worked out. Sometimes transfers don't work out for whatever reason so if he's unhappy, move on and hopefully he'll do well enough for us to get the fee back. There are a lot of people who rate him, I've never really got the fuss as he's always looked like a dud to me. But, good luck to him and it'll be very interesting to see if anyone else comes in tomorrow. Josh king is a good shout.
 Posted
04/10/2020 at
19:11:16
Surely we need a replacement? Asking a lot to hope DCL and Richarlison can stay fit. Would love a quick forward to come in as well as a goalkeeper. Not sure whether we can do any business without shipping out some deadwood. Would like to see us rid of Walcott and Bolasie. Are Rangers still interested in Besic?
 Posted
04/10/2020 at
19:12:21
I am sure we will have someone lined up for cover.
 Posted
04/10/2020 at
19:13:00
I had high hopes for the lad but his attitude and lack of humility was evident.
He had a few disciplinary problems, sulked when not picked or subbed and made no effort to apply himself and settle in.
It is always down to the individual and while I'm sad for him and us that it didn't work out he needs to grow up somewhere else.
I'm hearing Carlos surprise might be St Maxim from Newcastle.
Wouldn't be surprised if Milik turns up too.
No such luck with a new keeper. I guess Carlo doesn't wasn't to destroy his confidence altogether.
 Posted
04/10/2020 at
19:13:06
Doesn't seem like a strange move to me. He'll probably get a signing-on bonus and gets to live in Paris for a year. What's not to like?
And maybe he'll be more suited to that league rather than ours. Adds a bit of spice to deadline day, too. How many players will be asking their agents to speak with us?
 Posted
04/10/2020 at
19:18:11
Mike #98 " and a soprano who was a CIA station chief in Berlin when the wall came down".
That's some powerful voice, then!
 Posted
04/10/2020 at
19:19:16
Mike- time will tell regarding Kean. We obviously don't see the day-to-day training and perhaps the kid is a box of laughs at the farm, but if he usually has a face like a smacked arse then, I would want rid of him.
A shame really, as he has an italaian manager and coach and most Italians can understand a good deal of Spanish (and portuguese on a good day!)So he had that going for him. it seems to me that he was given certain assurances and they haven't been kept. The kid has talent, and with the ball put in front of him he has some good ideas and he looked the part recently when he had more than his usual 15 mins.
He has had a few starts but just like Gordon, iwobi and eveyone else he has got to take his chance, and whether it is the thickness of a post or not that is were careers are made or lost.
I hope he goes away and shows us where we went wrong.
Back on the pickford subject(as no thread would be complete without it) I played in goal for much of an outdoor 5-a-side today in a howling gale with torrential rain…lost 16-6, (we give 2 goals for a header). I can safely say that catching the ball was a nightmare…I know I'm not on £100 grand a week but it did make me think the kid is entitled to the odd mistake(it wasn't a brain fart like some of his antics!).
I did come out in the second half, so i didn't concede them all!
Had a shot late on which hit their keepers foot and rebounded into my eye socket and then bounced back towards goal only to hit the post(would have been 2 goals for the header)…it was only in the pub after 3 pints that I was told it hit the post! Proper footy.
 Posted
04/10/2020 at
19:20:42
Mike, Mrs C (an avid TW reader herself) just said that yours is a choir she wants to join. She doesn't sing, but wants to hear the stories!
 Posted
04/10/2020 at
19:26:14
Barkley just missed a sitter against the other lot!
 Posted
04/10/2020 at
19:28:34
Well, whattya know, another world-top keeper making a ridiculous blunder. That virus seems to be going around too!
Eddie #105, you might be right, I hadn't considered that. And yes, the unexpected — from DCL's emergence to the width of the upright — always takes a hand. I still really like the kid and hope he does well.
Sean #106, tell your missus I've got some spicy stories from our European cathedral concert tour in 2018… involving Polish vodka, Roman limoncello and a certain late-night bus ride in Germany.
Brent #104, she sings whatever notes she wants.
 Posted
04/10/2020 at
19:40:05
If this guy was a horse he would've be turned into glue by now. I'm delighted he is going absolutely muck.
 Posted
04/10/2020 at
19:45:28
If Saint-Maxim is on the way, then I need to wake up as it's definitely a dream so far. Like a parallel universe already (with Rodriguez doing things that only one other left footed genius in today's game can do – Messi).
S-M can do a lot of similar things that Mbappe can do, plus makes a lot of good decision.
If we can get him + Carlos coaching + Rodriguez finding him, then will be absolutely made up.
 Posted
04/10/2020 at
19:51:13
St Maximin would be an extraordinary upgrade on Walcott. Surely comes with a hefty price tag.
On other notes, Dalot has gone to AC Milan, Roca to Bayern and Diallo to Saints. All looked like they could be promising for us so will follow their progress with interest.
If we end the window with Godfrey, St Maximin and Llorente, I'll be very pleased.
 Posted
04/10/2020 at
20:02:54
Have I died and gone to heaven ? Everton top of the league, the RS being humiliated by Villa. It's going to be one hell of a derby match, if Villa can do this we can put them to the sword too.
 Posted
04/10/2020 at
20:03:21
No one keen to buy him then. Wonder why that could be 🤔
 Posted
04/10/2020 at
20:08:45
That's what happens when you play the shirt and not the reputation.
 Posted
04/10/2020 at
20:10:30
Is it helping the 'lesser teams' without fans ? No pressure / no inferiority complex ?
 Posted
04/10/2020 at
20:17:25
Mike (89) – I didn't ignore your point, I just twisted it. It is allowed.
Second dig you've had at me in less than 24 hours. I'm surprised. I thought you had a bit more about you than being so snippy. And I can say that because you said I was snotty…
 Posted
04/10/2020 at
20:28:12
Does anyone actually know that the club has gone all out in trying to sell him? Maybe a loan deal was all that was realistically on the table?
A chance for the lad to try something different and perhaps see that the grass isn't always greener.
It could be a useful object lesson for him and he will be kept immersed in what is required to make it in the game.
 Posted
04/10/2020 at
20:30:28
Sounds like the sort of trip Moise might have enjoyed Mike
 Posted
04/10/2020 at
20:45:32
Football without crowds is a different proposition
 Posted
04/10/2020 at
20:55:48
Fortunately champions league at least will accept 30% local fans Pat
 Posted
04/10/2020 at
20:56:44
It could be a beginning
Although I share your thoughts
 Posted
04/10/2020 at
21:04:26
Nicolas I doubt there'll be any fans allowed back this season.
 Posted
04/10/2020 at
21:07:36
Would love to go on kloppyweb tonight.
Shame that they will have Mane and Allison back for the derby.
About these ads