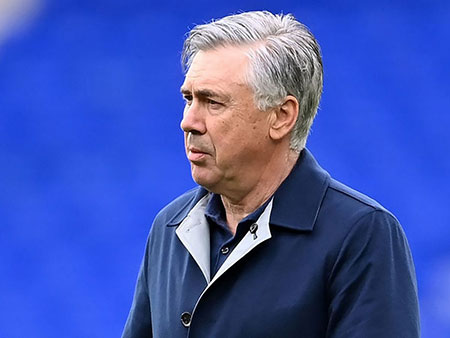 Seasons2020-21Everton News
Carlo Ancelotti said he was "really satisfied" with Everton's performance against Liverpool today even if the result was a little disappointing.
The Blues twice came from behind to earn a point even though the reds thought they had won the game in injury time, only for Video Assistant Referee, David Coote, to rule out Jordan Henderson's goal for offside.
Michael Keane's 19th minute header off James Rodriguez's corner cancelled out Sadio Mané's opener and Dominic Calvert-Lewin rescued a draw with a superb striker's goal when he headed home Lucas Digne's sumptuous cross to keep Everton top of the Premier League table.
"The performance was good," Ancelotti said, although he acknowledged that some of his team's defending could have been better. "We wanted to compete and in the end we competed really well.

"We never lost confidence, we were able to equalise the game two times. We had an opportunity to go up but we hit the post with Richarlison. Apart from the result, the performance was satisfying. I am really satisfied.
"When you concede a goal you have to defend better. We have to defend better in certain situations but against Liverpool, it is a really, really difficult game, defensively and offensively."
Jordan Pickford was in the headlines again after making a series of excellent saves that was bookended by a terrible challenge on Virgil van Dijk that escaped any action from the officials and a weak attempt to keep out Henderson's shot that would have won Liverpool the game had Mané not been offside.
Ancelotti again refused to be drawn on any negatives where was goalkeeper was concerned, saying: "I think he played a good game, like the others. A good performance. I am not worried."
Meanwhile, the man who registered his 10th goal of the season, Calvert-Lewin, expressed the players' disappointment that they didn't put an end to Everton's long run of matches without a derby win.
"In the end [we are happy with a draw] but we're disappointed that we didn't kick on at 1-1," he said. "We'd done well to get ourselves back in the game.
"It's coming, I genuinely believe it's coming. I thought today would be the day but not to be.
"I'm disappointed as I wanted to win the game today. The fans did, too, so in that respect it's frustrating but in terms of the bigger picture we got a point and take it on to the next game. We didn't lose and we want to keep that unbeaten run going."
---
Note: the following content is not moderated or vetted by the site owners at the time of submission. Comments are the responsibility of the poster. Disclaimer
 Posted
17/10/2020 at
22:29:58
I'm certainly utterly disappointed in that display, which wasn't a patch on the stuff we've been playing up to the international break. So frustrating not to have taken three points and in style.
 Posted
17/10/2020 at
22:35:05
I know what you mean Stan but the opposition was so much better than any we have seen so far this season and their closing down made it very difficult for us to play in the first half. We were much better in the second half and I thought we were the better team after the break.
Richi looked absolutely knackered to me and whilst he still worked hard he just wasn't a threat to them. On normal form he would have scored that header.
Very satisfactory all told- this team needs more time to gel and if we can keep fighting back and getting points while we do that then the season looks promising.
 Posted
17/10/2020 at
22:49:43
Surprised at how good we looked on MOTD, having hid behind the proverbial couch today.
Good to see we've got the RS rattled as well. Let's keep going and see how far we can take this.
 Posted
17/10/2020 at
22:53:55
I'm not happy with that derby result either. Worn out waiting for the elusive win; Ancelotti must be speaking in diplomatic cadences if he regards that as satisfying.
 Posted
17/10/2020 at
23:11:17
I'm not too dissatisfied with the draw today, we were pretty shit and dodged a bullet, on another day when the decisions go against us Pickford is sent off after 10 minutes and they have a penalty and probably win the game by a cricket score, so the draw was just slight relief really.
Personally I feel we lack a genuine out and out wide player with searing pace and I'm becoming convinced that playing Gomes and Pickford every week is flogging a dead horse.
Pickford needs time out now, his form is poor, decision-making is dreadful and everything be does is now being put under the microscope, take him out the team for four or five weeks and see what Olsen can do.
Gomes has been a passenger for a long time even prior to the dreadful injury but he's certainly not improved since then, he just doesn't offer enough really.
I'm struggling to understand the way Bernard has been pretty much bombed out, if he can recapture the form when he first came linking up with Digne then the guy can play a part surely?
 Posted
17/10/2020 at
23:28:56
Same from me as Jim,@5, has said.
In my view next week Siggy, will start, on merit. I like Andres Gomes, but the application, and spirit has gone.
I said on another post, his spirit of 2 years ago, all matters considered, has gone.
For me bar a miracle, he won't be a regular in this squad for much longer.
Sunday League Veterans, as he plays on the park, now with no awareness, and in my view, is no longer good enough for the job.
I'll hold my hand up, I want André Gomes to succeed, but for me like when Marwood done Inchy, he's now not the same player, after coming back from a terrible injury.
I hope to be proved wrong.
 Posted
17/10/2020 at
23:54:15
I honestly don't get why people are having a go at Pickford today – normally yes but today he was contender for MOTM. We got lucky today, the red shite are fuming, we played some good stuff at times and we are still top of the league. We don't need a scapegoat for everything you know, and players have off days.
 Posted
18/10/2020 at
00:07:07
Well said Steve.
 Posted
18/10/2020 at
00:14:02
We have every right to feel some disappointment, mainly due to the fact that we did not play as well as in previous games. However that is the nature of following any football team. We have a whole season ahead and hopefully many positive displays. However we will also play some lousy games, although I don't think Everton were as bad as some posters have suggested. We got a point off a good team and they lost two points just as we did. For a change we actually got some breaks. We are still a team in transition. We have a very capable manager and ups and downs will just happen as he still experiments with formations and gets to know his squad even better.
 Posted
18/10/2020 at
00:49:10
One more aggressive motor in the midfield 3 please Santa
 Posted
18/10/2020 at
01:12:59
Let's not forget we played the best team in the prem today. With a little more luck (we got plenty) we could have had 3 points. I'm happy with a draw. I think the international break did LFC more favours than us. We looked a little bit jaded but you could see we weren't fazed going behind. Richy will be a big miss but we have talent waiting in the wings. Saints next and kick on. UTFT.
 Posted
18/10/2020 at
01:13:16
We saw the difference between a talented side still developing into a team and a well-established talented team proving it.
They still couldn't beat us and we had a shot at all 3 points in the end.
Let's see what's what come February.
About these ads