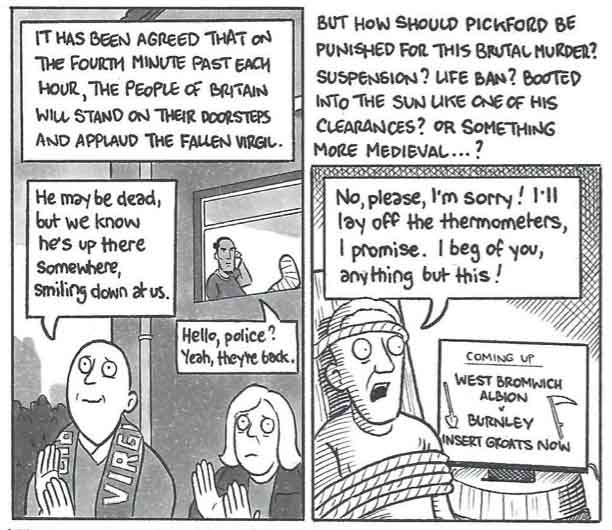 Opinion
The levels of pearl-clutching and near hysteria that has dominated the aftermath of Saturday's controversial Merseyside derby really have been something to behold
The world is a very strange place these days. The levels of pearl-clutching and near hysteria that has dominated the aftermath of Saturday's controversial Merseyside derby really have been something to behold. You would expect the Internet's diaspora of Kopites, with their unrivalled sense of entitlement and offended-by-everything approach to social media, to spend the next week bleating about how they were robbed of victory and that Jordan Pickford should be retrospectively banned for his "assault" on Virgil van Dijk.
That has happened, of course, in spades, along with reds "supporters" wishing death on Richarlison and Jordan Pickford and "promises" made to Van Dijk that his injury will be avenged on the streets of Liverpool should the Everton goalkeeper ever dare set foot there.

What has been incredible, though, is the reaction by pundits, journalists and high-profile media personalities, some of whom you might have credited with a bit more impartiality than to get pulled into the Big Red pity party in quite the way they have. The Sky Sports and BT Sport pundit panels are stuffed with ex-Liverpool players, of course, so Steve McManaman's insufferable "insights" and Graeme Souness's righteous indignation, hilariously mocked by Jamie Carragher for the flagrant hypocrisy it was, are par for the course.
But then you've got the likes of Martin Keown, an ex-Everton player and no stranger to cynical on-field transgressions himself, saying Pickford's impressive saves shouldn't count because he shouldn't have been on the pitch. The Mail described the goalkeeper's challenge as "a horror tackle" and The Mirror have given column inches to ex-referee Keith Hackett who equated Pickford's actions to Roy Keane's premeditated lunge on Alf Inge Haaland and suggested that Liverpool FC should sue the Everton man for the money they will spend paying for his treatment and his wages while he recuperates over the next few months.
Former Premier League goalie Mark Bosnich and Julien Laurens, a man paid by EPSN among others for his opinions, took it to new heights of lunacy by arguing that Pickford should be banned for as long as Van Dijk is out injured. And to cap it all off, Georginio Wijnaldum's simpering complaints that he and his team-mates haven't slept since losing their captain has been carried across the back pages most of the major papers today, complete with a sorrowful piece by one of the industry's heavier weights in Henry Winter.
Where were these distraught pieces when André Gomes had his ankle snapped in two as the result of cynical tackle by Son Hueng-Min that was a good deal more impetuous and intentional than Pickford's? Of course, as we Blues noted at the time, the media focus amid the fallout was on the South Korean's tears and emotional well-being. Son even had his red card rescinded by the Football Association even though the South Korean had endangered the Portuguese's career when the "red mist" descended.
Where was this almost mawkish response when Seamus Coleman suffered a double leg break and James McCarthy suffered the same fate a few years back? Or when Gerard Deulofeu ruptured his ACL in a challenge by Virgil van Dijk? Or, going further back, when Martin Taylor nearly ended Eduardo's career by breaking his ankle in 2008?
It's depressing that the back-page attention-grabbing tricks work so well in the clickbait economy of modern journalism so that newspaper editors indulge this sensationalist nonsense and it shouldn't be ignored that this media furore is fuelling and encouraging the abuse that Pickford and his wife — not to mention Richarlison, the other bad guy from Saturday — have been receiving on social media this week.
All of it is enough to confirm your suspicions that the world is losing its mind but, thankfully, there are more measured, mature heads out there willing to see the incidents on Saturday for what they were — the product of the heat of the moment in a local derby; unfortunate incidents that happen in football, particularly when emotions are running high.
Martin Samuel used his Sunday column in the Daily Mail to focus on the football and Everton finally playing their neighbours as equals after years of living in their shadow. Speaking to The Blue Room podcast, David Preece backed his fellow Mackem, saying that he can't listen to anyone who says Pickford acted with malice or that he even had time to. And David Squires had some fun the situation in his latest cartoon for The Guardian, lampooning the funereal reaction from Liverpool to the loss of their skipper.
David Squires mocks the funereal reaction to Van Dijk's injury in his latest cartoon
From a psychological standpoint, much of the reaction from Liverpool fans has been understandable and there have been a few level-headed reds who accepted the situation for what it was. While the incident that caused Van Dijk's injury wasn't as visceral or shocking as those that befell Gomes and Coleman in particular, Liverpool have lost a hugely important player and the fact that it was a player from the old enemy that caused it has only rubbed salt into the wounds.
Richarlison's even more rash and dangerous tackle on Thiago Alcântara has, unfortunately, only intensified the witch hunt and with the media piling on, there is a danger that what was arguably one of the nicest teams in the Premier League — indeed, too nice for too long — is being painted as a gang of thugs that goes out with the express intent of injuring their opponents. Certainly, Wijnaldum's whingeing with the media's backing is doing nothing to quell the outrage and the calls for some kind of "justice", and as the narrative builds, so does the likelihood that Everton will find themselves on the wrong end of another big decision in the coming weeks. Perhaps that's the point.
Let's be clear — Jordan Pickford's challenge on Van Dijk was, at best, clumsy (and typically Pickford-esque in that respect) and, at worst, utterly reckless. Richarlison's was born of frustration but unforgivable and he was deservedly red-carded. Had the rules not been muddied by the introduction of VAR, Pickford probably would have been sent off, too, and the post-match discussion would be dominated by Evertonians — and observers of the England national team as well, no doubt — questioning how much longer the former Sunderland man can keep the starting spot in Carlo Ancelotti's team. (In reality, that debate can't be staved off much longer because Pickford almost cost his team-mates the game with that incident and his blunder for Jordan Henderson's disallowed goal at the death but that's a matter for another column.)
It wasn't premeditated — and modern super slow-mo replays don't help in this respect because they make it look as though he had time to think about his actions — and if there was any intent in it at all, it was probably to merely ensure that Van Dijk, in the same way the Dutchman had "left something" on James Rodriguez and Dominic Calvert-Lewin in the first couple of minutes of Saturday's match, knew he was in a local derby. The fact that Pickford connects with the defender's leg as it was planted, thereby hyper-extending the ligaments on impact, was just unfortunate and made the "tackle" look that much worse.
That the outcry has been so loud and widespread in the media speaks, no doubt, to the fact that Van Dijk is regarded as one of the best players in his position, appears to be a decent guy and model professional. It's also down to who he plays for — the reigning Premier League champions and one of the media darling "big six" so there are plenty of parallels here to the "Project Big Picture" issue that took up all the oxygen last week. It's hard to imagine a player from any other club bar maybe Manchester United getting such a reaction from the press and very little has been said about an awful two-footed lunge by Lewis Dunk from the weekend that could have been just as damaging as Pickford's had the Brighton defender not been as fortunate.
What Goes Around Comes Around
No one would argue that Virgil van Dijk had an injury like that coming to him — he's not that kind of player — or that any current reds player would be deserving of having seven to nine months carved out of their career as a result of one poor tackle. He's not the first to come off badly from the blood and thunder of a Mersey derby, though. Marouane Fellaini was once sidelined by a two-footed challenge from Sotiris Kyrgiakos in an Anfield derby in 2010 and, most notable of all (but seemingly lost in the mists of time where modern journos are concerned because it's from that "different generation" that Souness so conveniently but lamely invoked at the weekend), Liverpool's Jimmy Case ended Geoff Nulty's career with a horrible tackle 40 years ago.

Marouane Fellaini was sidelined for a lengthy period by an ugly tackle by Sotiris Kyrgiakos in 2010
But the bed-wetting by some Liverpool fans overlooks just how lucky their team has been with regard to serious injury to their players in recent years. While Everton have had leg and ankle fractures, ACLs, Achilles tendon ruptures, medal ligament injuries and quadricep tears that have deprived them of key players for long periods. Jürgen Klopp has been able to call upon a remarkably consistent team and it was a big reason why Liverpool cantered to the title last season.
And while the Anfield hierarchy are demanding answers from the Premier League over VAR reviews and the ever-evolving offside rule and will, with their outsized reputation and consequent heft, probably agitate enough to force through some kind of change, they're conveniently forgetting just how much and how often they have benefitted from decisions on a routine basis. Indeed, this pathetic reaction from their fans to being on the wrong side of very clear rules is illustrative of a fanbase utterly unfamiliar with the kind of refereeing injustice that teams like Everton experience all too frequently. Not for nothing did "Penalty to Liverpool!" become a meme on Twitter last season as Sadio Mané and Mohamed Salah dived and flopped their way to cheap penalty kicks. Now the boot is finally on the other foot, they can't handle it.
And let's not forget just how lopsided the Merseyside derby hall of infamous and scandalous officiating has become over the years. There are incidents that date back four decades that still wound Evertonians to this day and many can reel them off without taking a breath. For them, the following won't be anything other than a painful reminder so feel free to skip this wander down memory lane but any reds who have got this far might need a dose of perspective.
Clive Thomas disallowed a perfectly legitimate goal by Bryan Hamilton that robbed Everton of a place in the 1977 FA Cup Final that might well have transformed what ended up being a barren decade after the Toffees lifted the title in 1970.

In the 1984 Milk Cup Final, another incident that will never be forgotten by the Blue family, Alan Hansen's clear handball on the line denied Adrian Heath a winner that would have delivered a trophy to Goodison Park a few weeks earlier than would end up being the case when Howard Kendall steered his team to FA Cup glory.

In April 2000, in one of the more egregious errors in judgement, Graham Poll blew the final whistle as the ball was heading towards Sander Westerveld's empty goal, the reds' keeper having blasted a clearance against Don Hutchison's backside, depriving Walter Smith's side of victory. Unlike Thomas, who has never provided an explanation, years later, Poll would admit he got the decision wrong and the goal should have allowed.

And Poll was at the centre of controversy again in an Anfield derby in 2002 when he elected to award Liverpool a free-kick instead of Everton a penalty for handball by Stephan Henchoz and then somehow failed to take action against Steven Gerrard for a dreadful two-footed assault on a prone Gary Naysmith.

In 2007, it was Mark Clattenburg's turn to take centre stage in a Goodison derby that saw two Everton players receive red cards, the first of which, for Tony Hibbert, was going to be just a booking as the referee reached for his yellow card but changed his mind after Gerrard got in his ear. The seething injustice around this edition of the derby was compounded by the fact that Clattenburg failed to give the Blues a penalty when Joleon Lescott was hauled down in the box by Jamie Carragher and the referee failed to even card Dirk Kuyt for an incredible, flying, two-footed, waist-high lunge on Phil Neville that the latter managed to avoid by hurdling out the way.

Then, in 2011, match official Martin Atkinson, was completely taken in by Luis Suarez's blatant dive right in front of him and brandished a red card to Jack Rodwell, ending that Goodison derby as a contest in just the 22nd minute and condemning Everton to a 2-0 defeat.

Suarez, of course, was the villain of the piece two years later back at the Old Lady when his stamp on Kevin Mirallas took the Belgian out of the game but went unpunished, another in that long list of Blue derby grievances.

And just on Saturday, Liverpool got away with another two incidents, one where Andrew Robertson kicked out at Allan and the other where Mané blatantly tripped Yerry Mina off the ball. Neither of them caused any injury — although had Robertson raked his studs down Allan's Achilles rather this his calf, it may have been a different story — but they've also been completely glossed over in the hand-wringing over Van Dijk's injury.

Andrew Robertson's cynical kick out at Allan went unseen and unpunished by the officials

And do we even have to mention the Heysel ban, the greatest injustice of them all?
All in all, the fallout from Saturday's derby has been a little pathetic to watch unfold but, again, there's a risk of narratives being sown that could have implications for way that match officials treat both clubs going forward. It's incredibly myopic of Wijnaldum to claim that Everton "take it way too far in the games we play against them," when you survey the modern history of the derby and what has been perpetrated by both sides.
It was a derby, one of the more even and tightly-contested for quite a while but one also marred by a couple of very poor tackles that have garnered all the attention and one that, unfortunately, resulted in a long-term injury. No one died; life will go on, and while the northwest is roiled by rising Coronavirus cases, fresh lockdowns and the resulting economic hardship, you'd think there were more important things to whine about.
Note: the following content is not moderated or vetted by the site owners at the time of submission. Comments are the responsibility of the poster. Disclaimer
 Posted
21/10/2020 at
08:33:51
Great write up Managed to refer your article to some RS friends of mine in my region Interesting to find out their thoughts later tonite.
Of my opinion RS just of some spoiled brats backed up by some ingenious adults over some trivial matters under a microscopic vision with 10000x magnification. Grow up RS
 Posted
21/10/2020 at
08:41:20
Excellent analysis. It should be compulsory reading for all Liverpool fans, referees and journalists. I'm heartedly sick of the red hypocrisy
 Posted
21/10/2020 at
08:58:32
The hypocrisy is driven by fear perhaps.
What else could explain the hysterical reaction? They have had it all their own way for a long time and now realise that won't always be the case.
Yet another tedious response below.
 Posted
21/10/2020 at
08:58:39
Excellent summary. Read the Whingealdum one this morning. He obviously didn't notice Virgil trying to put one on our stars before his injury or Robertson's kick. Poor things losing sleep…cossetted and indulged in a City in a crisis. Pathetic!
 Posted
21/10/2020 at
08:58:43
https://www.bbc.co.uk/sport/football/54623158
Wow, as if the media bonfire needed further fuel, they're keeping it going at the RS luvvin Beeb with this one from press conference yesterday.
I know Everton are keeping a dignified silence on all this, but seriously someone should be saying enough is enough pointing out that theRS were not the angels they were portraying themselves to be on Saturday.
The way history is being Rewritten here wouldn't disgrace Stalin ! If we don't say anything then this spin will become an undeniable truth.
 Posted
21/10/2020 at
08:59:24
Great article. Not sure I agree with Van Dyke being a "nice guy". Deliberately went after Rodriguez in first minutes of the game(cynical knee in groin).
Doesn't hide the fact that Pickford 's reckless action isn't compensated for by the good saves he makes. Think he will be moved on in the next twelve months in a quiet way to ensure we get some of our money back.
 Posted
21/10/2020 at
09:01:02
The Times newspaper yesterday had 3 separate Van Dyke articles. The one Henry Winter wrote had me sounding off on the on-line comments section. I was pleased to see that 10 Times on-line readers agreed with my disgust at "the journalistic deification of all things Liverpool".
The BBC Breakfast sport report this this morning, presented by the Red Sally Nugent talked about the forthcoming Champions League games and said "and Liverpool face their match without Van Dyke, injured by Everton's Pickford", and showed the familiar picture of the challenge.
Gosh, it's tiresome.
 Posted
21/10/2020 at
09:09:53
Excellent article. The bed wetting example is set by the team. This morning Wijnaldum "Everton take it too far in the games we play", "accidents can happen but the way they were doing it is completely unacceptable" and the best "none of the players slept because of what happened ". While Klopp goes on "a couple of days ago something happened which should not happen in a football game". Although maybe Klipperty was referring to a VAR decision going against them! Next thing a minutes silence before their games.
 Posted
21/10/2020 at
09:14:05
BTW, I've written to the club asking that they issue some kind of statement to strike some balance but I guess they will feel stuck between a rock and a hard place.
 Posted
21/10/2020 at
09:15:26
The fume is real. All you can do is sit back and watch, open mouthed as the echo open a book of condolences for VVD and 'Gini' both spits his dummy AND cries.
Remarkable scenes all round. Welcome to our world.
 Posted
21/10/2020 at
09:19:29
Excellent article Lyndon. It's a pity that most of the media is so reactionary and spends very little time searching for truth when a banner headline full of emotional adjectives suffices to placate their paymasters and subscribers.
Everton FC suffers generally negatively on these types of incidents because they always have to play second fiddle to the neighbours in both the local and national media so that only sites like this can put forward a counter-argument on behalf of Evertonians and you have done this in the most thoughtful way.
I suspect that the media outrage will have an adverse effect on the club in the near future as officials will be hypersensitive in the aftermath of the derby and this may cloud their judgement.
The club will handle this as it has done so often before, but it's a pity that Carlo's team could pay a high price for a couple of unfortunate moments in a very competitive derby.
 Posted
21/10/2020 at
09:28:04
The ex-red pundits and their media chums have been waiting for a reason to discredit Everton and now they have it. And boy, they will milk it dry and then some.
For what it's worth, my opinion is bring it on. It tells me we've become a threat. And what we need to do as a club now is close ourselves off to these ineffectual and irrelevant hate preachers.
We need to use this to our advantage and create an 'us versus the world' mentality. With that wall around us, we go into every match like it's a fight we cannot lose. Make them hate us more, make them scared of us. Make it so that nobody wants to play little old Everton.
 Posted
21/10/2020 at
09:28:08
Excellent (as always), Lyndon.
Thanks for putting this together.
 Posted
21/10/2020 at
09:37:33
Great Article. It would be nice to see some passion from the past, from real Scousers like Peter Reid and Gerrard and in our derby matches from the 60's, 70's and 80's. Alas, with a foreign influx of players our local home bred players are in a distant past. Still there is some passion as a local derby but the ferocity is all but gone.
 Posted
21/10/2020 at
09:38:49
Physios treated van Dijk's left knee on pitch yet it is his right ACL that is injured. Klopp has admitted that he had been playing "in pain" -was the right knee already damaged and just aggravated by challenge? If so, then their own physios and management are more culpable than JP for having him play whilst carrying an injury.
 Posted
21/10/2020 at
09:38:55
Elaine from Peterborough – and her ilk – should have to read and respond to every point made in this even-handed and wholly truthful piece.
This may be the best thing Lyndon has ever written. Brilliant and thanks.
 Posted
21/10/2020 at
09:40:57
Amazing article, Lyndon, just articulates everything that has been running around in my head, but didn't have the skills and motivation to put into an article like you have. In the immediate aftermath of the derby, I had some sympathy for VVD (and still do, I never like to see a footballer out with an injury) but the more this has gone on, I feel a sickness in my stomach. They had a pre-match show on Star Sports here in India on Sunday, the day after the Saturday derby – Seema Jaiswal was the host, Glenn Hoddle and the other guy, whose name I forget. So, they are in the middle of the discussion and then she suddenly goes "Hold on a moment! We have breaking news" with a very mournful expression and I am like 'Oh God, no, not another terrorist attack in Paris/London or wherever', and she announces "News coming in that Virgil van Dyke will need to undergo surgery on his knee for the injury suffered yesterday resulting from a tackle by. bla.. bla..". And I was like "WTF???"
When did this ever happen to an injured Everton player? I shudder to think of what might have happened to Pickford and EFC if VVD's leg had snapped in 2 like what happened to Gomes. Probably there would have been calls to bring back the death penalty in Britain! Pickford is a strong guy, he needs the support of Carlo and the fans, whatever we may think about his footballing ability at the moment. Yes, he is in the middle of terrible form, but I somehow feel that he thrives in adversity and this incident, might bizarrely bring back his focus and concentration. It will be an interesting return derby in April by which time, I assume that the crowds will be allowed back in the stadiums.
 Posted
21/10/2020 at
09:44:15
"It was a derby, one of the more even and tightly-contested for quite a while but one also marred by a couple of very poor tackles that have garnered all the attention and one that, unfortunately, resulted in a long-term injury."
Quite, just saying it honestly, as it was.
"No one died; life will go on, and while the northwest is roiled by rising Coronavirus cases, fresh lockdowns and the resulting economic hardship, you'd think there were more important things to whine about."
Exactly, a sense of perspective needed.
 Posted
21/10/2020 at
09:47:39
Excellent article Lyndon. It's a pity only Everton supporters will see it.
Elaine from Peterborough. I didn't hear her comments, is there a link which I can listen to? I could do with a laugh.
 Posted
21/10/2020 at
09:49:20
At last – – some challenge to the uninterrupted bias in media including some dreadful statements on Social Media. I am unsure within myself whether EFC should make a counter statement to Klopp and Co but then you get drawn into a "tit for tat" brawl.
Suffice to say, I believe that this cover-up is an indication of how worried they (all of them) are about the possibility of Everton and Ancelotti breaking their grip.
I would not be intimidated by any of this drivel but would certainly use it to our advantage. Win again on Sunday and let's see:
"Have you seen the little piggies
Crawling in the dirt?
And for all the little piggies
Life is getting worse,
Always having dirt to play around in
Have you seen the bigger piggies
In their starched white shirts?
You will find the bigger piggies
Stirring up the dirt,
Always have clean shirts to play around in
In their styes with all their backing
They don't care what goes on around
In their eyes there's something lacking
What they need's a damn good whacking"
Cosmic Blue Grooves All The Way.
 Posted
21/10/2020 at
09:50:31
Ray #19,
Lyndon's piece has been linked to by the Echo in its Everton news section, it might still only be read by Evertonians but you never know others may see it too.
 Posted
21/10/2020 at
09:53:54
Excellent article Lyndon, and one which should be sent to Sky, BT sport and Talksport. Elaine from Peterborough would be mortified when she learns that her lovey dovey squeaky clean team are not so squeaky clean after all.
For anyone who wonders what I'm on about, Elaine from Peterborough was on radio 5live on Sunday night and again last night on Talksport. She was almost hysterical on Sunday, like a wailing banshee, a real drama queen. She basically came on to say every time the derby is at Goodison, there is nearly always trouble. She cites a challenge by Mirallas on Suarez on both nights, but obviously doesn't know the reason for the challenge. Last night she cites a challenge by Fellaini on a player, but I can't remember who she said it was. I'm sure we all know the reason for the Mirallas "revenge" tackle, so I won't go into it.
Last night on Talksport, Perry Groves was adamant Pickford fully intended to injure Van Dijk. How does he know, is he a mind reader?. All he kept on saying was that Pickford had both feet at least two feet off the floor, with his eyes only focused on Van Dijk, and making a "lunge" at Van Dijk with every intention of hurting him. Well the image I've seen shows an entirely different picture. (Where's Jay Woods Brz when you need him). I'm not condoning Pickford for his actions (I said last night I felt he was 100% innocent, which was totally a tongue in cheek comment), but in no way did he intend to hurt Van Dijk, but I don't think he is 100% to blame either. It was just an unfortunate collision which resulted in an unfortunate injury for one.
This is going to rumble on until the return derby at mordor. I seriously believe, even if fans still aren't allowed back into stadiums, there will be some planned revenge attack by RS fans towards Pickford. I can almost see now, the Everton team bus being attacked on its way up anfield road towards the stadium.
 Posted
21/10/2020 at
09:56:30
I hope that decent reds (and there are a few) are cringing at some of the behaviour from the past few days. It's beyond galling. Brazilians mourned Ayrton Senna less than LFC fans have over van Dijk!
What concerns me more is that there will be a concerted effort to punish us by the media and the referees (look out Sunday when we play Liverpool Rejects XI) and, while Carlo will be aware of this and address it when it does happen, the players will need to be super careful because the knives are out.
An Alamo mentality might help us.
 Posted
21/10/2020 at
10:08:41
Excellent, Lyndon, it deserves National exposure, hope it gets it, but somehow doubt it.
Take a bow, Lyndon, brilliant.
 Posted
21/10/2020 at
10:09:25
The reaction genuinely borders on insanity. Petitions for Parliament to overturn the result and for the police to take action against Pickford and Richarlison, a book of condolence in the local paper and the media still talking about it (wait until BT's coverage of their CL game tonight).
Then again, did one of them claim they were going to sue Real Madrid for £1bn when Ramos dared to tangle with Salah in the CL Final?
 Posted
21/10/2020 at
10:09:31
Superb article Lyndon, thank you.
 Posted
21/10/2020 at
10:14:30
Ajay #17, there was an online petition to bring back capital punishment, but it has been taken down. Apparently hanging is too good for Jordan Pickford.
Excellent Article Lyndon, could you not submit for publication in the Echo?
 Posted
21/10/2020 at
10:16:10
David #27.
Imagine how Ed Balls may have felt!
 Posted
21/10/2020 at
10:17:26
Geoff #27.
Geoff, the red Echo has already referenced and reproduced a fair chunk of Lyndon's article.
 Posted
21/10/2020 at
10:18:52
Excellent article.
I often get labelled a Bitter Blue.
I've started responding by saying, "Thanks Kitty".
On further explanation I explain it is short for Self-Pity Kitty.
I'm sure many of them are still curled-up in the foetal position at home, trembling and sobbing, the curtains drawn closed against the cruel world outside, a picture of VVD clutched to their aching hearts.
Bless.
Mind you, we had better be careful.
Elaine and her Peterborough posse could be on the march, clutching stale scones and vol-au-vents to hurl at us Bitters.
(Seriously, expect further nausea inducement down the line when she is guest of honour at VVD's return, a smiling, tear-filled Klopp in the background, Phil Collins' 'If Leaving Me is Easy' a background accompaniment. Buckets at the ready.)
 Posted
21/10/2020 at
10:23:46
Expect a few of the supposed redshite fans to attempt to join TW today – this page has just appeared on their NewsNow website!
 Posted
21/10/2020 at
10:24:40
Hilarious, Mike. I heard Elaine from Peterborough saying her husband is also a Man Utd fan. A right pair of glory hunters.
 Posted
21/10/2020 at
10:26:05
I object to the term 'pearl-clutching'.
Apart from that, l have long said we should have sued the redshite for 5 years of loss of earnings from missed European football.
FTRS
 Posted
21/10/2020 at
10:43:35
Rob, this is no laughing matter.
If you think Elaine will defrost those vol-au-vents for the likes of us before throwing them, think again.
The Middle England RS-Manc axis can get really nasty when it wants to.
 Posted
21/10/2020 at
10:48:05
Haha David.
A club whose players supported one of their own who directed racist abuse at an opponent.
A club that won the CL and whose supporters then vandalise an Everton monument.
A club that won the PL and whose supporter then set fire to Everton office building and damaged the Dixie Dean statue.
A club whose supporters wave a Steaua Bucaresti banner.
A club that can fuck right off.
Fucking hate them.
If RS were playing the Nazis in Escape to Victory I would be shouting for the Nazis (well hoping for a draw).
 Posted
21/10/2020 at
10:48:16
There are of course many ordinary Liverpool supporters who are simply decent people and largely take things as they come, in the style of 'Keep calm and carry on'.
But unfortunately there are some weird types who are extreme zealots. Trouble is, LFC itself has failed miserably to lead by example. Their utterances have been unprofessional, inciting extreme behaviour from others, and have in my opinion brought the game into disrepute. Klopp in particular comes over as unbalanced. The relevant authorities need to censure him particularly and LFC generally.
For a club that has had so many issues with the media in relation to the Hillsborough disaster, it is ironic that that very media are fomenting matters in the way we're seeing.
The responses of LFC and the media are enough to put ordinary decent folk off football alltogether. It is an absurd and ugly episode that requires a firm and clear response from the authorities.
 Posted
21/10/2020 at
10:52:41
Guys, don't you think we are now adding to this ridiculous situation by having numerous posts about it? The game is over, the result was a draw, and nothing is going to change that, they have also said no further action will be taken against Pickford.
The other lot will be delighted to see that our fans are just as preoccupied as they are, it's 1 game in 38… move on.
 Posted
21/10/2020 at
10:53:06
Patrick @21
Thanks, I didn't know that. 👍🏻
 Posted
21/10/2020 at
11:03:55
Brian@38: Correct. A lot of posts were inevitable, but the main point is that Everton has not responded as a club, and arguably does not need to do so. Regardless, there is a very serious issue of how the authorities should respond to this episode.
 Posted
21/10/2020 at
11:08:33
Stan 40
I think the club have done exactly the right thing by making no comment, these type of tackles quite often and unfortunately 1 player is likely to miss the rest of the season. Should the officials have sent Pickford off yes absolutely.
 Posted
21/10/2020 at
11:11:52
Brian #30 thanks for the info, hopefully it will have a knock on effect.
Gerry #32 this should really make it interesting
 Posted
21/10/2020 at
11:16:42
Great read, but I think you have gone a bit easy on Mane!
Players are not allowed within a foot of him without it looking like he's been shot. He's gone in on Digne in a nasty challenge, done over Mina. Guy has mastered the dark arts
 Posted
21/10/2020 at
11:22:51
To be honest I've had more laughs in the past few days than ever!
I think it's hilarious watching and listening to them all
Mind you I'll probably get a bit pissed off with it after it spills over to next season.
Personally I hope the Club do not respond to it in any way
However the next time Henry Winter or any of the other RS journos who have made this so ridiculous, turn up at Goodison for their pukka pies and treble GT's the Club should tell them to F Off
 Posted
21/10/2020 at
11:23:16
Brian@38, I did think that at first but because they're still banging on about it they're making themselves look 'stupid' to everyone else in football. So let's keep baiting them because seriously, we've put up with their shit for decades.
 Posted
21/10/2020 at
11:26:55
Brian@41: I think the issue now is not what decisions the ref and VAR made, but what the higher authorities should do about the response of LFC and the media (separately) to the match. The match is over, but there are bigger issues that now need dealing with.
 Posted
21/10/2020 at
11:31:27
Another very poignant and well written article Lyndon, you cover so many points that I had even forgotten about. I just hope that when all the dust eventually settles we come out of this hoo-hah in a decent light, and not one that is subjected to red-tinted lens magnification.
Mind you it already has, but hopefully people will be able to read between the lines, and fathom out exactly what is the true crux of the matter.
I get a lot of jokes on What'sApp, and send them on to various friends, (yes some are actually RS) but the recent ones regarding Saturday and the focus on JP and VVD, have been met in one quarter as being 'boring now'.
To which I immediately riposted, that it was Liverpool who will not let this matter rest, not us, each time I check in to SSN, they are still going on about it 4 or 5 days after the event.
Glad to see that nearly all Evertonians, who unfortunately have had to endure similar torture for more years than we deserve, have nevertheless kept a dignified stance on the ugly propaganda emanating from Mordor.
 Posted
21/10/2020 at
11:34:49
Klopp is basically saying that Pickford never went for the ball. They laughed their heads off when erratic Pickford, gifted them a Merseyside derby two seasons ago, and Klopp got a fine for running on the pitch like a madman, celebrating like he'd just won the World Cup.
WANTITBOTHWAYS FC, are not going to get an inch out of us Evertonians on this one, no fucking chance.
 Posted
21/10/2020 at
11:40:37
Great article. before the derby, Jurgen had already had spats with a number of public figures Lampard, Keane, Geoff Shreeve, just in the last 8 weeks. He is clearly (for whatever reason,) at the end of his tether at the moment).
And then Carragher calls him on the fact they were light at centre half anyway, and he blows again. But I reckon he touched a nerve. I reckon they finished the last window, with 'we should be ok, just pray nothing happens to Virgil'. And I reckon he's right, that is their season finished, they were wholly dependent on this guy playing every game. Without him they will do well to finish top 4. That may sound extreme, but that team will lose confidence rapidly once they start shipping stupid goals.
 Posted
21/10/2020 at
11:43:34
Excellent piece Lyndon.
Outraged at everything, ashamed of nothing.
I'll never forget a group of them laughing after Heysel saying it was worth it because we couldn't play in the European Cup. They still celebrate it with their Steaua Bucharest flag.
Vile, greedy, arrogant, entitled and embarrassing. One of their sites had a comment saying Everton were an embarrassment to this City!
You really couldn't make it up.
 Posted
21/10/2020 at
11:45:00
I'm not sure if you could be a journalist who could write on any number of things besides Everton, Lyndon, but this is a fantastic piece in defense of Everton, mate.
You put a lot of these national journalists to shame when you write about our club, and some people might say it's a very one sided response, which makes it all the better imo, because that's exactly how the fallout from the Merseyside derby as been reported on nationally has you quite rightly point out👏👏
 Posted
21/10/2020 at
11:55:15
I know what you are saying Brian, but we have generally greeted the hysteria and outrage with a sniggering contempt among ourselves.
We needed a public response from somebody who not only knows the facts, but can find the words to expose the absurdity of this media frenzy.
Lyndon cuts straight through the bullshit with this admirable and unerringly accurate response. The RS propaganda machine will not want this piece reaching a wider audience. Too many home truths
I urge all Evertonians to send this article to every kopite. Scrap that. Every football fan, they know.
Take a bow Mr Lloyd.
 Posted
21/10/2020 at
11:56:36
Unfortunately we know what's coming now.
They will be given license to dive and cheat their way through games and get every debatable decision. Expect VAR to break down on any controversial decision against them
Other side of the coin. We will be marked down for every decision.
Until the media stop fawning over "the big 2" nothing will change
 Posted
21/10/2020 at
12:00:25
Well said Lyndon.
Rank hypocrisy that is driven by fear, these games are feisty and in the past Liverpool have delivered some horror tackles themselves. More than their fair share.
Neither side has the moral high ground. All this knee jerk hyperbole Is a result of the shock of losing their most important player and is far from balanced or impartial.
This relentless vitriol is now inciting hate and threats of violence. It has to stop before a player or their family get hurt, or worse. The media outlets that continue to run with this, like a wolf pack, will be complicit.
About these ads
---
---
© ToffeeWeb