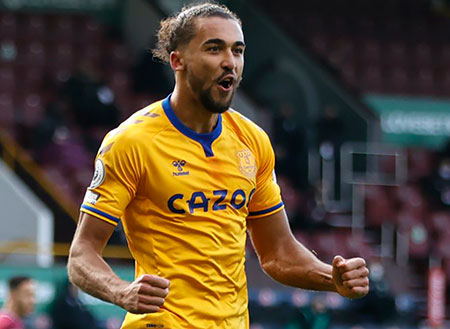 Seasons2020-21Everton News
Match Preview

Dominic Calvert-Lewin misses out again with a recurrence of his hamstring strain but Carlo Ancelotti says he should be back for the next game against Manchester City
Everton's quest for European qualification resumes this weekend when Fulham come to Goodison Park.
The Blues welcome the Cottagers looking to build on two resilient performances against Manchester United in the Premier League and Tottenham in the FA Cup, performances that have hopefully injected some new-found belief into Carlo Ancelotti's charges in the build-up to a run of important fixtures.
The Toffees prevailed 5-4 in a wild Fifth Round tie in midweek but it came at the cost of leading scorer, Dominic Calvert-Lewin, who had to be substituted early in the second half with a recurrence of the hamstring strain that kept him out of action for a time last month but his manager doesn't think he will be out long.

Calvert-Lewin will be joined on the sidelines by Jordan Pickford who has now missed three games with a rib injury but he too could be in contention in midweek when the League leaders come to town.
James Rodriguez and André Gomes are fit, however, and Josh King is eligible after being cup-tied for the Spurs match.
"Both [Calvert-Lewin and Pickford] will not be available for the game on Sunday," Ancelotti said in his pre-match press conference today. "We are looking [at] the next game on Wednesday where we think both of them will be available. "[Calvert-Lewin] only had the feeling that something wasn't good so he stopped. He only has a little problem. He can play on Wednesday.
"We have back Andre Gomes, James, Josh King, and in the next week we think Allan will be back so the squad is ready for the next games.
"James is fine. He trained yesterday and today and is available for the game on Sunday. No problem."
King has made two appearances off the bench since arriving in a deadline-day move from Bournemouth and is almost certain to make his full debut on Sunday. Like Richarlison, he can play wide or as a centre-forward so it will be interesting to see which one gets the role up top or if it's more of a twin-striker formation.
It also remains to be seen whether Ancelotti will press James back into action from the start or whether he will keep an eye on the clash with Manchester City on Wednesday and the Merseyside derby beyond and keep him in reserve, with Alex Iwobi in the line-up instead.
With Gylfi Sigurdsson and Tom Davies so instrumental in the win over Spurs, Gomes would have some way to go to shift either one of them but the Portuguese, who has been in good form himself, might benefit from rotation given that both of the former two midfielders played 120 minutes just four days previously.
Fulham looked dead and buried early in the season and a shoo-in for relegation straight back to the Championship but, since losing at home to Everton in November, they have shown some resilience and effectiveness, even if they haven't always been able to convert enough draws into wins.
They surprised Leicester at the King Power Stadium in their next game on 30 November and then lost just once, away at Manchester City, until Chelsea edged them 1-0 at Craven Cottage in mid-January, including holding Liverpool and Spurs to draws.
Scott Parker will reportedly be without Tom Cairney and Terence Kongolo but Josh Maja could be in line to make his first start since joining on loan at the start of the month.
Despite the fact that Everton have a 100% record at home against the Cottagers and that this weekend's visitors will start the weekend seven points adrift of safety at the wrong end of the Premier League, Ancelotti's men will underestimate them at their peril. Former Blue, Ademola Lookman, in particular, will be itching to put in a good performance on what briefly and intermittently his stomping ground.
Then there's the small matter of the fact that the Blues haven't won at home in the League without fans in the ground since beating Brighton in the first week of October. It's their away form that has kept them on the heels of the top six and with games in hand but they are going to have to make Goodison a fortress again on their own if they are to realise their European dream this season.
Kick-off: 7pm, Sunday, 14 February 2021 on BT Sport 1
Referee: Andy Madley
VAR: Kevin Friend
Last Time: Everton 3 – 0 Fulham
Predicted Line-up: Olsen, Holgate, Godfrey, Keane, Digne, Davies, Doucouré, Gomes, Rodriguez, King, Richarlison
---
Note: the following content is not moderated or vetted by the site owners at the time of submission. Comments are the responsibility of the poster. Disclaimer
 Posted
12/02/2021 at
16:34:15
So looks like we'll get a good idea of how good King is. Would be great if he scored a couple… not impossible against Fulham you'd imagine. Hopefully Calvert-Lewin will be straining at the leash for the match against Man City.
 Posted
12/02/2021 at
16:45:01
I'd forgotten we had signed Josh King. Phew!
Well, hopefully phew! come Monday morning.
 Posted
12/02/2021 at
16:50:12
Sounds very much like Carlo will be making a few changes from the team on Wednesday night. I'm not surprised either – I'm still fatigued just from watching it!
Carlo's selection will be almost as 'interesting' as my wife's reaction when I gently inform her that I'll be watching the game at 7pm on Valentine's Day!!
 Posted
12/02/2021 at
16:50:15
Tony @1,
Fulham don't give up a lot of goals. The last time they conceded three in the Premier League was against us back in November.
Defensively they are pretty solid. Their issue is scoring. They seem to draw a lot or lose by the odd goal.
 Posted
12/02/2021 at
16:57:06
I like watching Fulham, Kieran, they've come on leaps and bounds since the start of the season, so I'm not expecting an easy game.
 Posted
12/02/2021 at
17:12:56
I'm very pleased it's the late Sunday game, with that additional time to recover. Returnees do give us some scope to rotate, too, despite how sparse our bench looked on Wednesday.
 Posted
12/02/2021 at
17:25:58
Gbamin another month. Geez he's just broken. More chance of Joe Parkinson playing than him.
 Posted
12/02/2021 at
17:29:14
Tony @5,
They reminded me a bit of Aston Villa last season, decent enough, organized, just lacking a je ne sais quoi.
If they go down, but stick by Parker, I can see them rebounding pretty quickly and sticking around for a long while, kinda like Burnley did.
 Posted
12/02/2021 at
17:30:48
Ian Bennett
Yes it's actually been 18 months now since he last played. Aside from the specific injury healing, that's a long long time to be out of the daily routine of professional sport and then try and condition yourself to come back.
 Posted
12/02/2021 at
17:31:03
Phew! is right, Phil.
Tony #1, King hasn't scored two goals in a league game in two years, so let's not get overexcited. Just one tap-in or penalty would be great.
I'll be especially pleased to see Allan back in the line-up. Doucouré, Davies and Sigurdsson have done excellent work in front of the backline in his absence, but his quality is very much needed.
 Posted
12/02/2021 at
17:34:31
I would play Richarlison up top for the Fulham game and play King and Digne on the left.
Should be enough to get three important points… let's just hope it's not a 'Newcastle' performance.
COYBB
 Posted
12/02/2021 at
17:38:23
Kieran #9, I think conditioning will be no problem — the guy is only 25. He'll be fully fit to play.
The massive question will be performance level. Will he still have the speed necessary to play Premier League football after those two injuries?
It seems inconceivable… But miracles do happen.
 Posted
12/02/2021 at
18:14:22
These games are usually banana skins for Everton. I'm more confident against Man City, to be honest… but saying that, it seems Carlo is slowly improving our loser mentality.
 Posted
12/02/2021 at
18:32:11
Thank goodness Dominic will be healthy soon. We need him.
I was just thinking, in the last week we've been treated to two moments I'd define as nearing "iconic".
Ben Godfrey's "Fuck Off!"
Carlo blowing on his coffee.
The last reaction "iconic moment" was a while ago – Big Dunc hugging the ball boy.
What's next? Those two moments above make me grin ear-to-ear. Never mind the Dunc – Ball Boy moment which I just loved to death. I'm hoping there's many, many more of these snapshots in time to come.
 Posted
12/02/2021 at
18:48:59
Prior to seeing him in action, I have King down as one of Brands's makeweight signings. Never impressed me at Premier League or Championship levels, I just hope he proves me wrong.
 Posted
12/02/2021 at
18:52:28
Can't help but think that it would be good to see Richarlison have a spell with a more central role, as he ended up doing against Spurs. I often think he's wasted or marginalised, or too easily derailed, out on the wing.
Then there's the question of who to put on the left – Bernard, Nkounkou, King? Depends on how attacking we want to be.
 Posted
12/02/2021 at
19:00:10
Joe, exactly my thoughts. He just scored a brace, hungry again so why move him away from the middle? Let him get some more. On the left l would play Bernard. Give the guy a chance! I also liked Coleman on the right, a lot more involved than lwobi.
 Posted
12/02/2021 at
19:08:00
Fulham game is definitely a banana skin. All their match reports recently seem to say "Played well but didn't get the result they deserved." So a big worry they might come good against us. Hope not.
 Posted
12/02/2021 at
19:16:51
I think Ancellotti needs to properly manage the squad over the next 3 or 4 games leading up to the Man City cup tie. Sensible use of King, Coleman, Nkounkou, Bernard, Holgate etc, against Fulham, Man City (league) and Liverpool to get points on the board but also keep one eye on the cup game.
Rest Calvert-Lewin, Digne, Sigurdsson even, for a proper tilt at the cup tie without ceding league points. Easy to say, but come on Carlo, we're now entering the "business" end of the season. You've got us here, you earn the big bucks, now deliver… Please!
 Posted
12/02/2021 at
19:17:26
Joe and David, I'm with that and I remember being informed that King can play the wing (although let's take a moment to note that he is cup-tied). King looked interested when he came on vs Man Utd so that looks like a preference for me as well.
 Posted
12/02/2021 at
19:18:45
David Pearl,
Great point about Coleman there.
 Posted
12/02/2021 at
20:02:57
Ian (7) – I agree with your basic point – I'll believe Gbamin's back when I actually see him on the pitch – but it doesn't sound like he's had any sort of setback. These things just take time, plus I imagine Everton are making a point of not rushing him back.
 Posted
12/02/2021 at
20:11:04
How is Gbamin? I thought he was retired injured a while back…
I don't think Fulham will be a banana skin, we have improved so much.
Fear no-one this season. I think everyone fears us more, and about time. 😉
 Posted
12/02/2021 at
20:16:34
Bill, I hope he's going to be a player for us of quality. We're right to take our time, of course. No panic. He's 25 and we can still get the best of him, there are no rules about these things.
 Posted
12/02/2021 at
20:27:08
Kieran Kinsella @ 9
Just consider his psychology should he find the required fitness to play a prem game. His team mates would have I feel sure have been gentle with him in training, he then in his mind has to be able to commit to full blooded challenges during a real match.
He'll know he's has this weaknes, the psychology job he'll need to be ready is atleast as big as the medical one.
 Posted
12/02/2021 at
20:30:01
Colin @15, Yes by hypnotizing technics.
 Posted
12/02/2021 at
20:33:29
And yet players do it, Tom. Gomes for one and Barkley after his leg break and Coleman etc. I just have a feeling that this fella is going to come good.
He's at the right club to find his way again. Ancelotti is starting to create a Zen calm about our proceedings and I think Brands is part of that too. That's good for the likes of Gbamin and it should be good for fans like me who are impatient.
 Posted
12/02/2021 at
20:42:44
Tony Hill @ 41
Absolutely, it's by no means impossible. And I'd like to see him put himself about on the park.
There's been some amazing recoveries over the years, but for me, it's the repeat nature of his injuries that dominates my thoughts.
 Posted
12/02/2021 at
20:46:31
I agree, Tom, it's a worry but let's hope.
 Posted
12/02/2021 at
20:47:42
With Calvert-Lewin out, we could see a new dynamic in the forward line. A forward line that contains King, Richarlison, and James, is nothing to be sniffed at.
I guess Sigurdsson will on the bench – he put a shift and a half in on top of his goal and 3 assists, so Gomes back in I reckon.
Will Iwobi be picked? Bernard?
Nice to have options again!
 Posted
12/02/2021 at
21:10:45
Tom 38/Tony 40
To Tom's point, do you remember Li Tie? He was good for us for some time, got injured then was never the same. Moyes had said after he eventually left that he was fearful of getting injured.
I don't even remember what the injury he had was but I assume it was painful if it affected him that much. Hopefully, Gbamin will make it — both physically and psychologically.
 Posted
12/02/2021 at
21:22:59
Li Tue… Oh the memories!
This from our Past Player Profile:
But the new season started badly for Li Tie, sent off after just 12 mins from coming on as a sub at Arsenal and picking up two yellow cards for two silly challenges. Then he hurt his foot and missed a few more games then he went back to China to train with the national squad… and fractured his shin in training! Out for the rest of the dismal 2003-04 season.
And it proved to be a very long recovery period for Li Tie. He did not return to full training until October 2004. He got fit enough to play at International level for his native China on numerous occasions but he never played for Everton again.
In March of 2006, it was decided he needed another operation, which put paid to any chances of a return for the 2005-06 season, and his contract expired, leaving him as another Everton crock who was, remarkably, quite able to play for China!
He joined Sheffield Utd but only played one game for them.
I think we had a story recently about him going into coaching… Yes, he was made manager of China just over a year ago! How's he getting on, I wonder…???
 Posted
12/02/2021 at
21:27:58
Michael
I think he is the national team manager in China now. I remember in his first season he was a lucky charm, we never seemed to lose when he was playing. That being said, I remember bizarrely seeing a similar trend with Tobias Linderoth at one point in time. So it just goes to show, Stats don't tell the whole story.
 Posted
12/02/2021 at
21:40:44
We have six league games scheduled before the cup tie which is five weeks away. Although there is a lot of football this month, things are less congested after the derby match. Subject to fixture changes we then have four free midweeks leading up to the cup tie.
Carlo will continue to rotate the squad with a view to keeping everyone fully fit and available while picking up enough points to maintain if not improve our league position. Hopefully by the time we face City in the cup he will be able to field a full bench and be in a position to make five substitutions if necessary.
I think Josh King will surprise many. He has pace, finishing ability and the motivation to earn a longer term contract.
 Posted
12/02/2021 at
22:02:42
Luck, the way life falls, will decide, in sport as in life. Some make it, some don't
With regard to Li Tie, we have had special links with the world's two superpowers now – US (Howard et al) and China (their coach). Have we made the best of that?
 Posted
12/02/2021 at
22:15:07
John Raftery @ 47,
I watched King in the games he's come on late and I have to say he looks like he's got two left feet and is all thumbs with no fingers.
Probably early nerves, but there's nowhere to hide on Sunday, the adrenaline might do him some good.
 Posted
12/02/2021 at
22:15:47
Almost 46 years to the day since Fulham's only win at Goodison… 2-1 on 15 February 1975. An Everton team, top of the league, messed up big time to Second Division Fulham in front of over 45,000 disgusted fans.
Viv Busby, later to bizarrely rock up as Kendall Mk3's assistant in the near disastrous 1997-98 season, scored both their goals, one after a horror error by Dai Davies. Fulham went on to the Final where they lost to West Ham.
It was a season we should have won the league, but ended up 4th, and the FA Cup was more than possible, but this 8-year-old was already hooked on the Everton drug.
 Posted
12/02/2021 at
22:27:33
John #36. I'm with you re us fearing nobody these days. In fact, after that cup game v Spurs, as good as Man City are at the moment I wouldn't mind betting the last thing Pep will have wanted from the draw was Everton away.
 Posted
12/02/2021 at
22:31:53
Tom 49
Im backing him for first goal after reading your post
 Posted
12/02/2021 at
22:41:23
I remember that Fulham game in 1975. We stunk the place out. Just hope it doesn't happen again this weekend.
It may be a good thing we got King in before the window shut.
He has experience and although he doesn't have the youth of DCL he will be handy in other areas. Hopefully Richie and James can keep finding the net.
The next few weeks sees some tough games although I suppose they are all tough with this Jekyll and Hyde team but a Euro place is on the line.
 Posted
12/02/2021 at
22:50:30
We really need to get our home form back on track. We've got the lowest home xg figure in the league. DCL has also earned us 14 points this season with his goals, and we're without him. It's a far cry from scoring 5 and 4 goals in single matches against WBA and Brighton. I think we need to play with a higher intensity at home. Away from home the onus isn't on us to play fast football so we can control the game and play slowly. I would go with Richarlison up front and Bernard on the left, as he was pathetic when he came in for our last home league game against West Ham. I really hope Iwobi doesn't start as he's absolute dog shit.
 Posted
12/02/2021 at
22:57:00
Tom. Post 53, The cruel irony of that day after going all the way to Plymouth was Lyons had a perfectly good goal ruled out after getting it back to one each, ref ? You guessed it Thomas.
 Posted
12/02/2021 at
23:01:15
We've won every single home premier league match against Fulham. It really needs to continue.
 Posted
12/02/2021 at
23:16:38
Karl 50 I was at that game they had a keeper called meller or something big blond fella played a blinder.
 Posted
12/02/2021 at
23:20:36
John @47 correct about King. He won the free kick for our equaliser against Man United despite lacking match fitness. He is a good player who could be a significant figure for us in the future, given the chance.
I hope he's not going to be another Iwobi, damned regardless.
 Posted
12/02/2021 at
23:23:27
Uhoh,, Parker is pissy because the fffing rs stole a player from them for a paltry 4m.
Be just like them to rile a team that's about to play us..!
Please Everton, keep up the momentum and help my negative/infirioity mind set, also help with spelling, wouldn't go a miss…
 Posted
12/02/2021 at
23:26:02
Just like to add, Is Josh league tied?
Great player on his day, trust.
 Posted
12/02/2021 at
23:26:20
Every team favored to win in England's top football league is a step or two away from slipping on a banana skin. Everton no different. Because the Prem is the toughest professional football league on earth.
After 22 games, we're fighting for a CL spot while Fulham is 8 points adrift from safety with a GD of -14.
If we're even pretending for a European place next season, it's Everton wins, Fulham loses. The better team is Everton.
 Posted
12/02/2021 at
23:29:10
Tony Hill – 48
I actually think we are a lot commercially smarter now. Li Tie was at Everton in the early to mid-two thousands, then China was not a place to get a lot of money of merchandise I reckon. I was there in 2002 for a holiday, and all the western goods in Beijing – the capitol, seemed to be fake. Nowadays China is different, I work in Shanghai, though whenever I will get back to my job is another thing, and Shanghai is full of places that sell sports gear, and to get the genuine thing is a status symbol. The Chinese are huge consumers. However, the Chinese do not give two figs about Everton, I know, I lived in Wuhan as well as Shanghai. A lot of the kids who like football weren't born when Li Tie was at Everton, and Basketball is the most popular sport there.
Howard, and to a lesser extent Landon Donovan and Joe Max Moore were not utilised as commercial entities enough. Though it might have been that Everton weren't perceived as a big club back then, and football might not have been so popular in USA – Mike Gaynes will know.
It does appear though, that we are getting a lot of attention in Columbia, via James, and Mina to a lesser extent.
But, lets face it, Everton just haven't been trendy enough for decades, especially internationally.
But yes, we haven't exploited the popularity of international players enough,
 Posted
12/02/2021 at
23:30:57
We was laughing loads against spuds about King, reckon that somehow we affected Everton in a positive way, just saying like, the whole evening was exhausting yet so refreshing, laughter is great, mkayy…
 Posted
12/02/2021 at
23:51:58
I don't wish to disappoint anyone on this site but you really don't know your history Mr senior except.
 Posted
12/02/2021 at
23:58:17
Horrible news that some arseholes have tried to break into Carlo's house tonight before they ran away after being disturbed by his daughter. Mercifully, no-one was hurt.
What you don't want to hear.
 Posted
12/02/2021 at
00:03:29
I have to add an apology it was junior sometimes I take knee jerk reactions when I have one too many about not knowing.
 Posted
13/02/2021 at
01:37:08
Barry #62, more parallels. You lived in Wuhan? My wife's family is there, on the campus of the University of Science and Technology. She was stuck there for 6 months last year. Where do you work in Shanghai? I did some business with the US Chamber of Commerce there. Lived for a short time in the Jing An district, near the temple.
By the way, I once bought a killer pair of adidas football boots on the street in Shanghai… to my astonishment they turned out to be genuine.
Re the USA, Everton is guilty of ongoing, gross marketing negligence here. ManUtd, Arsenal, the RS and even Chelsea and Spurs have done booming business here for decades. Us? Nothing. Zip. No leverage at all from the USA players who played at Goodison. Never even tried. To this day, buying Everton gear here is almost impossible.
 Posted
13/02/2021 at
01:54:37
Michael #45, Li Tie is immensely popular as China's national team coach, probably because due to COVID they haven't played a game since he was named to the post a year ago.
But the team is pretty dismal. They will barely get out of the first round of Asian qualifying for the WC. In desperation for talented players, they have started calling up naturalized citizens — English-born Nico Yennaris from the Arsenal academy via Brentford (now renamed Li Ke) and two Brazilians.
Last fall, Li Tie also called into his national team camp a powerful central defender name of Jiang Guangtai. We knew him as Tyias Browning. He is not yet eligible to play for China because he represented England at the U-17, U-19 and U-21 levels. Those rules are under review.
So two Evertonians could be representing China when they resume WC qualifying play against the Maldives this spring.
 Posted
13/02/2021 at
02:57:19
Mike it's difficult to buy gear (for kids at least) in Liverpool. I have no doubt it will be impossible for you in the States. .
I have a son Everton mad and he's probably average / perhaps slightly smaller than an average 11 year old (last year of junior school). Anyway , he had to wear the biggest junior shirt and that just fits (perhaps a little small).
After that the next size is adults! Obviously even a small adults will swamp him. Therefore no correct size for an average kid between 11-18 – the age where they want to wear kits.
 Posted
13/02/2021 at
07:06:20
remember beating WBA 1 0 and li tie scored it. young wayne looked brilliant.
not sure about King and a 6 mth loan shows neither are the club but hes got the attributes and he could share the load with dom.
looking forward to seeing Robinson today and still sorry he had to leave. I think he is already better than Chilwell.
 Posted
13/02/2021 at
07:31:12
Jamie 18 I loved those moments too, Carlo blowing his Bovril, cool as you like. When big Dunc was running up and down the touchline against Chelsea, hugging ball boys, it was so wonderful to see, the passion, what it meant to him, an iconic Everton moment which will stay with me.
 Posted
13/02/2021 at
07:47:03
Let's hope the squad is tuned in and galvanised and can take out Fulham, and hopefully no injuries, from this game.
 Posted
13/02/2021 at
08:16:03
I remain cautious about tomorrows game. Seen it in recent weeks Everton being a home banker against the likes of West Ham and Newcastle. Tomorrow is no different.
I'd like to see us start on the front foot, the desire and committment and application needs to be there against the lesser clubs as well.
 Posted
13/02/2021 at
08:24:03
The manager has been effectively managing the squad all season and I trust him to do so this weekend whoever he selects. We are still too thin so will have the occasional Newcastle moment, but I'm just seeing a bit of momentum gathering now as we head into the business end of the season.
I was really hoping to see Gbamin for Everton. I don't feel like that happens this season and sadly I'm not convinced it will at all. I sincerely hope I'm wrong on both counts.
I guess I sound a bit negative this morning. I'm not, far from it!!
 Posted
13/02/2021 at
08:50:27
I am really interested to see which team Carlo picks after the Cup exertions and also with his eye on City in midweek.
I am sure we will win and have the momentum to do really well in the upcoming tough fixtures, that will really shake the luvvies at Sky.
 Posted
13/02/2021 at
09:03:50
Kieran (46), even Darren Gibson when he joined us had a weird record that we never lost a match in his first 10(+) appearances for Everton or something like that. Unfortunately, it all went south for him after that.
Coming to today's match, I believe Carlo will rest Siggy and Davies and bring in Gomes and James.He may also give Godfrey a break. I would also rest Doucoure, if possible, but that would be making too many changes to the team. So, my starting XI:
Olsen
Coleman Mina Keane Digne
Doucoure Holgate Gomes
James
King Richarlison
SUBS: Virginia, Godfrey, Siggy, Davies, Iwobi, Delph, Bernard
 Posted
13/02/2021 at
09:14:09
We have to be "on it" right from the start tomorrow. No sleepwalking into an early Fulham trap.
We seemed to need a spark versus United and Spurs so it would be nice if the boys were truly fired-up for Fulham as they are a good footballing outfit who will be very keen for the points.
On King, -I like the lad and expect him to show us what he can do.
 Posted
13/02/2021 at
09:17:14
Would love to see a few rested and a focus on attack. Would save James for those next 2 games, and let's see whether King offers something different on the right of a 3. Hopefully get 2-3 ahead then sub other key players ahead of a massive week.
Olsen
Coleman Holgate Godfrey Digne
Doucoure Davies Gomes
King Richie Bernard
If we get enough ahead then give the Duke and Digne some rest for Onyango and Nkounkou to get some minutes too.
 Posted
13/02/2021 at
09:17:22
46 years ago!!!
My God – I'm depressed!
Remember it like yesterday.
And Carlisle
Where have the years gone???
 Posted
13/02/2021 at
09:23:29
With Kevin Sinfield running 7 marathons in 7 days ( by way of example ) it continues to perplex me why professional footballers need to have a rest after a full day at the office. Fine if they have a niggle, but if they are the best player for the position and are playing to form, then pick them, especially given the salaries they demand. Tommy Lawton played twice a day, not twice a week.
 Posted
13/02/2021 at
09:32:13
The ones that amaze me though are the tennis players, especially at the top. 3-4 hours games then another one the next day!
 Posted
13/02/2021 at
09:32:13
I know what you mean Neil but there's a difference between fitness levels now and when Tommy Lawton played. It's about optimum fitness. I'm sure Kevin Sinfields 3rd 4th etc days weren't as comfortable as his first.
Equally I'm sure that Dom, for example COULD play everyday if asked – he just wouldn't be as effective.
 Posted
13/02/2021 at
09:36:04
Fulham will have been watching how Newcastle performed against us a couple of weeks ago.
The will be using that as their blueprint for this game. We have to be ready for the closing down, the pressure and be ready to fight in the midfield to win possession. The win wont come easy. If we are not up for the fighting part of this match to allow our talent to count, Fulham will do a Newcastle.
Olsen
Coleman Keane Godfrey Digne
Doucoure Davies
Iwobi James Richarlison
King
Everton 2 Fulham 0
 Posted
13/02/2021 at
09:42:43
It's relevant to Everton v Fulham, but keeping a keen eye on results today. Obviously winning our own fixture is in our own hands but providing we do there are some interesting fixtures, that if they go in our favour could see us in a very decent position come Sunday evening. Not a prediction, but if this worked out:
Leicester v Liverpool draw.
City beat Tottenham.
Brighton peg back Villa.
And we beat Fulham with the game(s) in hand remaining.
 Posted
13/02/2021 at
09:44:53
Aaargggh Danny – why did you DO that??
Now I'm all excited again.
It's the hope that kills!
UTFT
 Posted
13/02/2021 at
09:49:59
John Skelly 64
Whatyouonabout?
 Posted
13/02/2021 at
10:02:11
This is the type of game where Ancelotti may not select a identifiable attacker. Fulham are likely to set up shop.
 Posted
13/02/2021 at
10:19:32
Olsen
Godfrey
Digne
Mina
Keane
Davies
Doucoure
Gomes
King
Richarlison
James
Not sure Sigurdsson can play 120 minutes and Sunday.
 Posted
13/02/2021 at
10:29:55
Barry and Mike – growing me and my mates were Summer Bay and Neighbours fans, so all wanted to try Australia for a gap year, although not sure why none of us made it? A tinge of regret at never staying in Shanghai for a few days as it looks good on TV – I don't know any mandarin, so if I ever go I'll need to do as an English speaking tour. In Hong Kong where a few relatives and friends have chosen to remain and I visit every-so-often, there are many who love their football and Hong Kong football team, especially as a lot of UK bankers & IT people who go to live in HK so it's a good British feel in the bars (sell pints too) – at least it used to anyway a few years ago. Plenty of Man U and RS fans there, and small amounts who support other teams depending on where in the UK they travelled over from. On Facebook, there is a growing HK Everton page though, so maybe things are picking up. Also HK is where Bruce Lee is from and origins of great old school dubbed kung fu flicks like Way of The Dragon.
The game: Would like to see Nkounkou get some game time. It's a club in the relegation zone, so a great opportunity if we are winning by 2 clear goals to get on in left midfield and see him edge closer to challenging for a position.
Richie – I think he has transformed into one of those players who lives for goals. Last year he had a good taste of it as a striker and looks like he believes he should be a main goal scorer still with DCL, from the way I've seen him play and then the joy he got against Spurs. Say like Frank Lampard or Van Nilsteroy, the types who will do anything to be in the box when the ball is coming in as they know they are likely to score. I don't think Richie is wrong and is one of the few who can strike through the ball cleanly from the edge of the box with both feet, not just curl it, and maybe we can sacrafice some width at times if he's allowed to come more central to get a shot off to keep him happy. It works for Sterling at City and Richie has just a good a shot on him.
Anyway,
About these ads