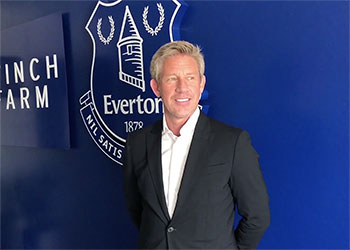 Seasons2020-21Everton News
Everton's Director of Football, Marcel Brands, is said to be close to agreeing terms on an extension to his current contract with the club.
The Dutchman's existing deal expires this summer and while there has been speculation over whether he would remain at Goodison Park, privately it was always expected that he would stay on.
Brands has been in the post since the spring of 2018, coming on board as Everton were putting the final touches on a contract for team manager, Marco Silva,
The duo were seen as the foundation of a new era at Goodison Park after the recruitment failings under their respective predecessors, Steve Walsh and Ronald Koeman.

Silva's tenure only lasted 18 months but Brands earned a place on the Everton's Board of Directors and has overseen a gradual cull of unwanted players from the squad as well as a modified transfer strategy since Carlo Ancelotti took the reins as manager in December 2019.
The Liverpool Echo report that Brands is expected to put to paper on his new deal soon and that was backed up by comments made by Ancelotti today.
"For what I know there is work in progress," the Italian said. "I think that no doubt, he is going to stay and sign a new contact.

"We are working well. I have a good relationship with him and I will be really pleased he if can sign a new contract, but from what I know there is work in progress."
---
Note: the following content is not moderated or vetted by the site owners at the time of submission. Comments are the responsibility of the poster. Disclaimer
 Posted
16/02/2021 at
22:48:54
Great – he's been a roaring success so far
 Posted
16/02/2021 at
22:49:51
Nice. It seems we have some good news in the pipeline for when things on the pitch go off. We've done fairly well for such a frozen transfer window. It will be good to have no turnover upstairs and he certainly deserves to work with Carlo on what comes next.
 Posted
16/02/2021 at
22:50:32
He's got rid of a lot of mediocre buys, either sold or on loan, and will probably get a profit on Kean. Hopefully he can offload one of his worst purchases Delph.
 Posted
16/02/2021 at
22:51:12
Brancelotti
Take us forward to the promised land.
New stadia, new contract, beat City tomorrow, happy days.
See you at the live forum.
 Posted
16/02/2021 at
22:51:19
The fact that after a number of transfer windows under his control we will probably have Sigurdsson up front tomorrow suggests he shouldn't get a contract renewal. One thing I will say in Ancelotti's favour ( never let it be said that I'm unfair) is that Brands has let him down in the transfer market.
 Posted
16/02/2021 at
22:51:29
I'm still not convinced by Brands. Some of those he's brought in – Delph, Gbamin, Gomes – injury prone plus Iwobi was a panic buy.
Where are the players he's meant to unearth for us.
Would rather cut out a DoF and have Carlo dealing with Moshiri directly in relation to transfers. Yes he's he managed to get shut of some of the deadwood but its the players he's brought in that need questioning.
 Posted
16/02/2021 at
22:56:34
This is another great piece of news. Let's hope he finds another moise keane
 Posted
16/02/2021 at
23:00:26
Kunal @6 I will give you Delph and Gbamin, but Gomes injury prone. The lad got his ankle snapped in a tackle
 Posted
16/02/2021 at
23:06:27
There was little in Gbamin's injury history at Mainz that portended the horrible issues he's had with us. His longest absence was a month and a half in the autumn of 2017. He's just had awful luck and the longer he stays out, the more likely he'll get injured again, sadly.
Delph cost £8m, a minuscule fee that reflected his injury record at City. He was bought as a cut-price addition to add experience and depth in midfield. I don't think anyone expected him to miss quite as many games as he has.
In his time at Barcelona, Gomes missed a total of 6 weeks through injury, four of those comprising one lay-off. Hardly "injury prone".
 Posted
16/02/2021 at
23:16:52
Bobby 7. We have a Moise Kean but have mismanaged him.
 Posted
16/02/2021 at
23:30:46
No Ian we didn't. We're selling him after a lack of effort to earn his place in the squad.
 Posted
16/02/2021 at
23:34:00
Moise Kean scored tonight against Barca away from home. We seem to have bought a gem and lent him to someone else. Something seriously wrong there.
 Posted
16/02/2021 at
23:36:51
See previous entry Mike. There is the wrongness.
 Posted
16/02/2021 at
23:37:03
Ian #5 how has Brands let Carlo down in the transfer market? Every player we've signed since Carlo has been here has been excellent. Brands work has been flawless in the transfer market. Then again, the signings might have a lot to do with your hero, Carlo's influence, Ian.
 Posted
16/02/2021 at
23:38:03
At Kunal #3 you don't half talk some rubbish. Where are the gems he's uncovered? Branthwaite and Godfrey look pretty impressive, both unknown to Carlo. Moise Keane is tearing it up at PSG.
Brands is our future, it's a slow turnaround, but it's a turnaround. Believe.
 Posted
16/02/2021 at
23:38:44
Perhaps he can cover for DCL up front?
 Posted
16/02/2021 at
23:54:56
On balance, I'm happy if it's true that Brands intends to sign a contract extension.
On the one hand, personally I'm disappointed that he hasn't unearthed any 'diamonds in the rough' for (near) Seamus Coleman-like fees as he did at his previous clubs.
But then to be fair, he may have done that in recruiting Brainthwaite and Nkounkou last year. Still too early to tell, but their few outings for the first team certainly show promise.
On the other hand, he inherited a right shit-fest. Too many poor to average players, on long contracts and high salaries, making it almost impossible to shift them.
On that score he has been hamstrung on how quickly he could clear out the deadwood and freshen the squad up with better quality players for the manager to utilise.
No DoF or manager has ever had a 100% hit rate on his purchases, but for me Brands' success rate remains in credit.
Now five years into Moshiri's ownership I think it serves us best as this time – all the more so with the likely new stadium on the horizon – to maintain the stability and continuity a Brands-Ancelotti combo gives us in the DoF-First team manager model we now follow.
 Posted
16/02/2021 at
23:59:46
Yes other Mike, he did that by getting King remember?
 Posted
17/02/2021 at
00:05:23
Sorry, Mr. Doyle. I shouldn't be referring to you like that, again my apology.
 Posted
16/02/2021 at
00:09:39
Brands signings before this season…
Richarlison – Really Silvas signing – doesn't count.
Mina – overpaid and inconsistent. Possibly the weakest 6ft 4 player I've seen.
Digne – success
Bernard – our top earner for a while. Really?
Iwobi – the least said the better. One or 2 promising games does not make £35m
Kean – poor, but at least we might make a profit
Gomes – resting on his 100k a week contract. Poor.
Delph – up there with Iwobi as one of the worst signings in the clubs history
Gbamin – can't blame Brands for that one.
This season (inc last Jan)
James and Allan – blatantly Ancelotti's signings but Brands did drive a good bargain
Branthwaite and Nkounkou – both look promising
Godfrey – a gem.
King – wait and see
So until this season I would say that Brands had a 1 in 8 success rate costing the club close to £170 million in transfers and nearly £1m a week in wages. He has been piss poor up until this season.
 Posted
16/02/2021 at
00:11:30
Good news that Brands is signing a new contract. He did have to take risks on injury prone players due to the fact that Everton was a undesirable destination. It has in the nain worked out and hopefully Gbamin will workout Lyndon; Gbamin did have a lengthy injury record but I thought he was worth the risk. Sam Hoare type of player. Those days are over now and Medical Services is not the soft touch it was for career injury players I hope we will see progress on the work Brands has done on the youth side.
 Posted
17/02/2021 at
00:15:07
Bear in mind he's not solely in charge of transfer negotiations as evidenced when BK was "heavily involved" in the King deal. We don't know the whole dynamic. Maybe he draws up incredible lists of players then Kenshite pays over the odds for one and blows the whole budget.
 Posted
17/02/2021 at
00:21:58
Fantastic!! Next in line is new IMPROVED contracts for Gylfi, Iwobi and Gomes (G.I.G) I assume!
 Posted
17/02/2021 at
00:36:35
The valuation of the squad has gone up substantially on his watch, so no surprise.
If Brands can pull off a couple more Godfrey high standard level of signings, now he's fully in the role, then why not.
And to clinch the deal … He was the only one strong enough in the last 10 years or so, to resist handing Garbutt a new 5 year contract. 🙂
 Posted
17/02/2021 at
00:40:43
Looks like Kean wasn't managed right. Always looked crap for us. Scores against Barca away and alongside Mbappe. Buying Iwobi was desperate though. Brands is not the messiah.
 Posted
17/02/2021 at
00:48:35
Not a fan of this whole DoF lark. The concept isn't new its been around on the continent for ages. What I have noticed is they usually stay at Clubs 3 times as long as managers.
Or, put another way…
The Owner, having brought in and got rid of 3 Coaches, gets the idea (sometimes put) in his head that, hey, maybe its not all the Coaches fault, maybe its the fault of the guy who, for the last, 8, 9, or 10yrs has been giving my 3 Coaches all these crap players to work with, aka…'He's not the sort of player you wanted? – You're the shit hot Coach, so coach him until he is.'
This usually results in The Owner getting Rid of both.
Even if Brands's record is, in my mind, at best 50/50, I never really thought he was going anywhere…and if he's angling for and will get a pay rise, given his average performance he's doing well.
Anyway, much as I'm not a fan of the position he's only part way through his 2nd manager yet…allegedly.
Yeah, but everybody has one now…and 3 of them get relegated every season, even more of them never win a carrot.
Yeah, but Brands is different you'll see, etc, etc. – we shall indeed see…or not, as the case may be.
 Posted
17/02/2021 at
00:53:00
was that a critique or some kind of stream of consciousness approach?
 Posted
17/02/2021 at
01:13:05
I think overall Brands is doing ok. Some good. Some mediocre signings. He was tasked to get rid of the deadwood. I would give him a C+ on that score. It admittedly was never going to be easy. We gave Sandro a 5 year deal on 120k per week ffs. On the "Brands' signings I would give him a B+. With a new contract and a long term manager who has more nouse than Silva, Allardyce & Koeman. We might start to see some wow! signings. He hasn't got an easy job luring top quality players to come to Everton. No trophies in 25 plus years. No European football. 3 maybe 4 internationally recognized stars. Compare us with City, United, Liverpool, Chelsea, Arsenal, Spurs etc. We are not very many players dream EPL destination.
If we can gain a Europa league place his job may become easier. If he can provide 1 automatic 1st choice player and a decent squad player every transfer window. We will have a stronger chance of gaining a seat at the elusive CL table.
Like most of you I want us to win things now. The reality is we are starting from a lowly position. We're still competing with 4 or 5 other teams for 5th place. Back in Europe with a stronger squad. Our aim next season is to be 5th in the pecking order for the title. A bit of luck and maybe some of the top 4 under performing and we could have a shout at top 4. I will give them (coaches, manager & Brands) another 18 months to show us what is possible. I hope Moshiri has made it clear to him we need CL football at BMD. Nil satis nisi optimum Marcel.
 Posted
17/02/2021 at
02:19:06
Dale@ 27; all of the above probably.
About these ads