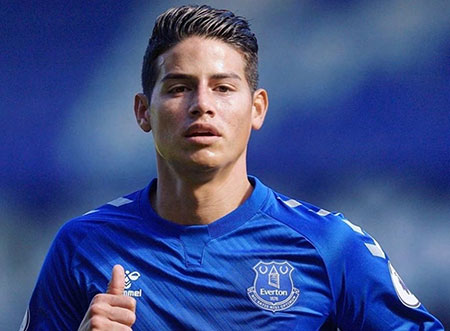 Seasons2020-21Everton News
James Rodriguez has been speaking about the run-in to the season and providing more of his on-field genius in the push to finish the Premier League campaign in a European qualifying place.
The Colombian star has been using his hiatus over the last month and a break from international action prompted by the CONMEBOL federation's decision to postpone the current round of World Cup qualifiers on the grounds of the COVID-19 crisis in significant parts of South America to work on getting as fit as he can for Everton's run-in to mid-May.
After successive league defeats to Chelsea and Burnley, the Toffees have fallen out of the top six but have a game in hand on the teams above them and they will know that in such an unpredictable season, opportunity will continue to knock over the final quarter of the season.
James was signed by Carlo Ancelotti with the aim of qualifying for Europe in mind and while doubts were expressed in the wider football world that the duo would be able to see that vision through, the former Real Madrid and Bayern Madrid forward believes that the club is big enough to eventually mix it up in the Champions League with his old team.

Asked by evertontv if Everton can reach the levels regularly achieved by clubs like Real and Bayern, James was definitive.
"Yes, why not?" he said. "Firstly… we need to be fighting it out around the top of the league. The past two games haven't been as good as we would have liked but that's the Premier League.
"Every game is like a final… a battle, but that's what we're here for and you have to make sure you're in good shape and strong mentally and prepared for everything, as it's going to be tough."
Rodriguez's biggest challenge in his first season in England is the one everyone expected it would be — staying fit. The 29-year-old's injury problems in recent years were one impediment to being able to consistently perform in Spain and Germany and the recurrent calf problem that has dogged him in recent months also wrecked his 2018 World Cup campaign in Russia.
Together with Carlo Ancelotti and the club's medical staff, the decision was taken to withhold him from action since the Merseyside derby to allow him to build up his fitness to something approaching 100%, a level he hasn't been close to in his time with the Toffees so far.
When he has played, he has often been gloriously effective, even if sometimes those stellar contributions have been limited to a couple of key moments per game. In that respect, James is happy enough with his form but clearly wants to offer more over the remainder of the campaign.
Everton have 10 games between now and the conclusion of the 2020-21 season and how they do will determine whether or not they qualify for Europe.
"I'm reasonably happy with how I am playing," he continued. "I think there's more to come and I can hit some better form, but when I've performed well, it's had a positive effect on the team.
"And that's what I want: for the team to play good football and perform at a high standard.
"It's been very easy to settle. I've come to a good club, a club that wants to achieve big things. I'm with a manager who knows exactly what I'm like. He knows how to relate to his players and staff.
"I get on fantastically well with him, just like a father and son. So, everything was very easy and straightforward.
"The football is a lot more physical [than other leagues. There's a lot of contact and you see fouls all the time but these are all new experiences and I'm happy to be adding this one to my list."
---
Note: the following content is not moderated or vetted by the site owners at the time of submission. Comments are the responsibility of the poster. Disclaimer
 Posted
28/03/2021 at
10:31:15
Watch the interview he does with Mina covering questions from the fans- James comes over as surprisingly outgoing to me and Yerry is always great value!
 Posted
28/03/2021 at
10:41:20
James will be key if we are to have a good end to the season. We've missed his creativity.
 Posted
28/03/2021 at
10:54:53
Let's hope James can help Everton, push for a European place, his vision and creativity on the park is a big miss to the team.
 Posted
28/03/2021 at
11:55:18
Well, you can't beat a story from the Horse's mouth, unless it's Mr Ed of course, of course, hopefully this dispels all the rumours about the sex change etc, he's hetero and sticking with it!
Although I was getting a bit concerned about why he seemed to be okay after a game, apart from getting the almost statutory knocks in the Premiership, which he alluded to, then disappearing for a few games, especially when he was much needed. Never thinking along the lines of Gender re-assignment/realignment, honest, more that he had a serious injury they were keeping under wraps, and possibly injecting him before games. Gladly that has not been the case. Be great to see him doing what he does best in the run-in!
 Posted
28/03/2021 at
12:12:07
Talk is cheap..let's see James stay fit for a run of games and use those skills for the benefit of us all.
 Posted
28/03/2021 at
12:34:56
One of he biggest talents in football when he's fully fit. When fully fit he is without doubt one of the most gifted players to pull on the Everton shirt and a joy to watch. Everton would be serious top four contenders if he had remained fully fit. Our push to ensconce ourselves within the top six will be massively boosted if James can remain fully fit for the last 10 games.
It's sad he picks up so many injuries and also that I am not too confident he will even play in all the remaining games. Since his dramatic impact at the start of the season he has been targeted more and taken out. I am not sure he has the body to endure this every week in the Premier League and may elect to move on to somewhere more suitable.
 Posted
28/03/2021 at
12:47:19
What are you on about, Derek?
 Posted
28/03/2021 at
12:50:17
In my opinion, James has never been the same since Saint Virgil clattered him in the opening minutes of the first derby – and got away with it. Robertson tried to do the same in the second derby.
 Posted
28/03/2021 at
12:52:13
Colin, a rumour, no doubt emanating from the feverish mind of an RS, claimed that James was "finally " coming out and was undergoing transgender realignment. Of course, some people picked it up and ran with it, much to the amusement of anyone with more than one brain cell. There were also doctored photos. you couldn't make it up.
 Posted
28/03/2021 at
12:59:04
Ray @ 9, I think they are getting confused with Firmino.
 Posted
28/03/2021 at
12:59:10
Great to see you back Ray 🙂
 Posted
28/03/2021 at
13:05:29
Wow Ray, that's low even for them. Ask Shannon!
 Posted
28/03/2021 at
13:20:00
No Steve, I've seen the photoshopped evidence of James. Better looking than anything I saw in the Grafton 🤣
Thanks Del👏
 Posted
28/03/2021 at
16:17:48
DK and Ray, I see I can count on the two of you to cover the news that is available nowhere else. Maybe this accounts for the reason I get so "excited" when I see James on the ball. Thanks for my first laugh of the day.
Allen #8, what Virgil did to James definitely fit the description of an attempted gender realignment.
Tony #6, using the words "fully fit" four times in one paragraph… are you using subliminal suggestion there? Thanks for the second laugh of the day.
Dave #1, where can I find that video?
 Posted
28/03/2021 at
16:20:13
He's that fragile, in the rough and tumble of the Premier League, I'd use him off the bench only. But of course I don't make such decisions. If he starts games he most probably won't feature in many due to calf strains etc.
 Posted
28/03/2021 at
16:48:16
I hope to see him return asap, and I also hope to see him playing in the No 10 role, that is his best position.
 Posted
28/03/2021 at
17:23:55
Hi Mike- it's on the official website. One of those q and a sessions where the fans put questions to them. Done with subtitles but shows them to be great pals and whilst I knew Mina to be one of those " you really know when he's in the room" characters, James shows he has a really fun personality too- surprised me anyway!
 Posted
28/03/2021 at
17:36:59
Mike, just to be clear here, and it's difficult to fully appreciate the Grafton if you never went there on Grab A Granny night, ET could sit at the bar and largely go unnoticed. Transgender, in this context, and I am aware that 'transgender' is probably the wrong term, would require the willing participation of a Moose, purely so that any plastic surgeon would have a benchmark to increase the femininity of the subject.
 Posted
28/03/2021 at
18:05:03
Hello Mike,
It's a lament and frustration over James's fitness. It must be hard for him to take and also Ancelotti must spend every night praying for him to get fit. It's frustrating for us fans too as he is the main player whose class can outwit and out-manoeuvre many organised teams by his speed of thought and sometimes just with a single beautiful pass.
Ultimately, I think, with a player of that calibre in the side, it makes other players believe. But, as I may have already mentioned, he has to be.
 Posted
28/03/2021 at
18:55:23
Tony #19, yep, I knew that! You weren't exactly subtle, mate.
Ray #18, I can't wait to meet you for an ale at the Grafton the next time I come over.
Dave #17, thanks, it's great.
About these ads