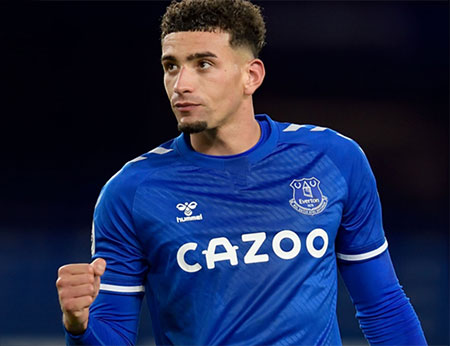 Seasons2020-21Everton News
Ben Godfrey, already a first-team regular in his debut season at Goodison Park, has expressed his hopes that Everton's internationals return healthy from the current break for World Cup qualifiers as the Blues prepare for the final 10 games of the Premier League season.
Carlo Ancelotti and his players will be looking to put three successive defeats in all competitions behind them when their League campaign resumes on 5th April with the visit of Crystal Palace, with a place in Europe the potential prize if they can go on a good run between now and mid-May.
Godfrey, one of the signings of the summer 2020 transfer window when Everton snapped him up from Norwich City for around £20m, has been on international duty himself and he played 90 minutes of England U21s' 2-0 defeat to Portugal alongside his club-mate Tom Davies who featured for 70 minutes.
"It's always a nervy time for clubs and managers when players disappear for a couple of weeks over the international break," Godfrey said on evertonfc.com, "but it gives players time to come back from injury and, touch wood, everyone comes back from the internationals in good shape and ready to go.

"We've got some massive games when we come back which we're all looking forward to."
Godfrey has been one of the surprise packages of the season, making 25 starts in positions across the back four and providing valuable versatility to a squad that has suffered more than its fair share of injuries this term.
Ancelotti was said to have had high hopes for the 23-year-old's future at Goodison but has intimated on more than one occasion how surprised he has been with the Yorkshireman's rapid ascent to first-team starter in the Everton team.
"It's nice when a manager backs you and trusts you to play in consistent games," said Godfrey, whose fearlessness, commitment and passion have been warmly received by the Toffees' faithful. "That's what you want as a player.
"I think tactically there has been an improvement in my game [since joining]. "I've still got a lot to improve on and to work on. I'll keep working hard every day to do that — to take my game onto that next level.
"I just want to keep working hard and keep churning out consistent performances. As long as I can help the boys get victories, then I'll be happy with that.
"I'm really enjoying my time here."
---
Note: the following content is not moderated or vetted by the site owners at the time of submission. Comments are the responsibility of the poster. Disclaimer
 Posted
29/03/2021 at
20:42:52
A great player, very usefull.
He can run forward with the ball, wish he did that more often. Crossing can be better, also his defensive awareness. But then, he's only a young man and you can see he has improved this season already.
Also don't seem to have injuries, no glass legs there.
I believe he can play in midfield if needed. Would be interesting to see him paired with Allan, and Doucouré in front of them.
 Posted
29/03/2021 at
20:45:03
What a good and sensible lad he appears to be, and rightly earning the plaudits of many pundits. Hate to bring it up, well I don't really, but if memory serves correctly, there were some on here saying what a waste of £22M or whatever the fee was, and that was his first couple of games, and playing out of position too. Tut tut.
I think he is probably one of the true 'bargains' that is with these crazy prices that seem to be the norm now in the Premier League. I just hope again, and I think I'm right in saying, he shouldn't/wouldn't be tempted away should the offers come in, and they will!
 Posted
29/03/2021 at
20:50:26
Really looking forward to seeing this lad grow into an Everton legend. He seems to understand the opportunity and we've all seen the potential. Make it happen, we're behind you man.
 Posted
29/03/2021 at
21:12:01
In Godfrey we trust.
 Posted
29/03/2021 at
21:16:47
Some of our best performers in recent times have come from less fashionable clubs. Calvert-Lewin, Holgate (last season) and Godfrey all came from lower leagues; Richarlison, Doucouré and Keane all came from smaller Premier League clubs.
I hope that Brands cottons on to this and spends more time looking for players who are hungry to prove themselves instead of big money, big wage cast-offs from larger clubs who come purely for the money and show little heart or desire when things get tough.
 Posted
29/03/2021 at
21:17:49
Godfrey really reminds me of Des Walker, but might actually be more aggressive than Des. Pace gives confidence to any defender, and you can see this with Godfrey, who I just hope can keep up what he's produced so far, especially because he seems to relish a fight, and you can't have enough of this type in your team.
 Posted
29/03/2021 at
21:29:00
What a great signing Ben Godfrey has been. He is an absolute breath of fresh air for the club and supporters. Enthusiasm, commitment and desire come as standard. He doesn't have to motivate himself to produce it, you can see it's in his genetic makeup. Plus he's got the athleticism to back it up and his overall game is gradually improving as the season goes on.
 Posted
29/03/2021 at
21:37:14
Great player with such potential. Power, pace and heart. Let's build success so a player like him won't ever harbour ambition to leave
 Posted
29/03/2021 at
21:39:34
Kevin #5, he already is. Branthwaite came from Blackburn, Nkounkou from Marseille B. And our "cast-offs", Allan and James, have certainly shown heart and desire (notwithstanding their bad injury luck).
Brands has pulled some clangers for sure, but I definitely like his recent approach to recruitment.
 Posted
29/03/2021 at
21:49:18
Kevin (5). I thoroughly agree. We are constantly linked with foreign players many of whom I (and others) have never heard of, and who have no Premier League experience. Whilst that isn't always an essential ingredient, hindsight is a wonderful thing, and many of our most successful and effective signings have had that qualification.
I believe too, that there must be a core of quality players playing in the Championship (and perhaps lower) who are talented and hungry for success, not just for stupidly inflated salaries. What better example is there than Ben Godfrey? Such great value for money.
If anyone disagrees, just whisper Tim Cahill, Phil Jagielka, Leighton Baines etc in their ears.
I do wish that we would concentrate our search for replacements closer to home and cherry-pick the odd Lucas Digne or Mikel Arteta when they are identified.
 Posted
29/03/2021 at
22:03:39
"Our Man Godfrey" and soon everyone will want to sign him – of that I have no doubt. Incredible potential as he has all the attributes and pace.
 Posted
29/03/2021 at
23:02:27
The lads been an asset to the squad and his passion and commitment have been significant to the Everton cause.
Good attitude and the potential to get better.
Great first season to date Ben, well done.
 Posted
29/03/2021 at
23:11:32
I like the way he recognises where his game needs to improve. He's already my player of the season. If he improves beyond this, wow!
 Posted
29/03/2021 at
23:18:16
Top lad with a fantastic attitude. Early days yet, but if he keeps this level of performance, attitude and willingness to learn, he has a great future in the game. I hope that is with Everton and I hope he is that good that our challenge is holding onto him.
Cahill, Jagielka and Baines were great finds and outstanding servants to the club. But I'm hoping Godfrey is a level above Premier League glass ceiling personally.
I don't care what nationality a player is or what league they come from. I just want Everton to aim high. Godfrey has potential and I'm massively excited about him, but then I was about Stones.
 Posted
29/03/2021 at
23:23:08
Future Everton captain.
 Posted
29/03/2021 at
23:31:37
I concur Colin. His comments and quotes about Coleman a few days ago suggest that. Providing we progress and keep hold of him.
 Posted
30/03/2021 at
00:20:04
Mike@
Branthwaite is on loan to Blackburn.
He was signed from Carlisle and was born there.
 Posted
30/03/2021 at
02:20:11
Cheers, Ian. Momentary brain lock there.
 Posted
30/03/2021 at
02:34:23
I too have been impressed by Ben and HUGE credit should be afforded him and whoever identified him as a signing. That said, it's not before time as far as I'm concerned. Our scouting/recruiting department has been moderate at best for too long to remember. The key with Ben is what he has between his ears, an attitude far too absent from other so-called "stars".
About these ads