عالمية عالمية
The best available 2022 college football recruits by defensive position


College football's 2022 recruiting class is a little over halfway through its first month of visits in June after spending the past year sidelined by a dead period.
This month will likely help prospects form opinions on top schools and lead to commitments. The visits were much needed for recruits and coaches alike, as there are a great many top prospects still uncommitted and undecided.
As of now, 164 of the ESPN 300 recruits are uncommitted. That includes nine of the 12 five-stars, 28 of the top 50 prospects, 53 of the top 100 and 85 of the top 150. Those numbers are pretty similar to where last year's class was at this point (27 of the 50 prospects, 47 of the top 100 and 147 of the top 300).
With so many big names still on the board, we reviewed the top committed and uncommitted recruit at each offensive position earlier in the week. We are now looking at the top committed and uncommitted defensive prospects in this class and where their recruitments stand.

Defensive tackle
Top committed:
Tyre West
Georgia
West is the fifth-best defensive tackle in the class and has been committed to Georgia since December. He's a 6-foot-3, 280-pound prospect from Tifton, Georgia, and he's the No. 4-ranked recruit in the state.
He is part of a really good defensive haul so far for the Dawgs with linebackers Jalon Walker and C.J. Washington, corner Marquis Groves-Killebrew, defensive end Darris Smith and athlete Malaki Starks, who could play on both sides of the ball.
Top uncommitted:
Walter Nolen
ESPN 300 rank: 2
Of the 25 ESPN 300 defensive tackles in the class, 19 are still uncommitted, and Nolen is ranked the highest of the bunch.
A five-star prospect and the highest-ranked defensive prospect in the Class of 2022, Nolen is a 6-3, 300-pound recruit from Cordova, Tennessee. He released a top list of Alabama, Florida, Georgia, LSU, Michigan, Ohio State, Oregon and USC back in April. He has visited Florida, Georgia and Michigan in June and is planning to take official visits in the fall as well.
It seems as though Florida did an excellent job while he was on campus, but Michigan has been hanging around as a school he mentions often.
Defensive end
Top committed:
Malick Sylla
Texas A&M
Sylla, the No. 47-ranked prospect, is the sixth ESPN 300 defensive end to commit to Texas A&M over the last two classes, part of an incredible haul at that position.
Jimbo Fisher is building some versatility along the line and on the edge for his future defense, and Sylla is going to be a big part of that. A 6-5, 225-pound recruit from Katy, Texas, Sylla could play on the edge or in a hybrid role and has a ton of room to grow despite already being the Aggies' highest-ranked commit in the 2022 class.
Top uncommitted:
Shemar Stewart
ESPN 300 rank: 3
Of the 26 ESPN 300 defensive ends, there are 18 uncommitted — including the top six, led by Stewart.
Stewart is a 6-5, 255-pound prospect out of Miami. He's one of two five-star defensive ends and has been actively visiting schools in June.
He has been to Florida, Georgia, Ohio State, LSU, Miami, Clemson and Florida State, among others. It doesn't seem like Stewart will make a decision in the immediate future, as he has said he plans to wait until after the season.
2 Related
Linebacker
Top committed:
C.J. Hicks
Ohio State
Hicks is the No. 3 outside linebacker and the No. 36-ranked prospect overall. He's the No. 1 recruit in Ohio, out of Archbishop Alter High School, and the third-highest-ranked commit in Ohio State's top-ranked class.
At 6-3, 210 pounds, Hicks will fit in well with Ohio State's defense. He has been committed to the Buckeyes since May 2020 and is one of their six top-100 commitments. Hicks is joined by ESPN 300 linebacker Gabe Powers and corners Jaheim Singletary and Jyaire Brown as the top defensive commitments in the class.
Top uncommitted:
Harold Perkins
ESPN 300 rank: 10
There are 35 linebackers ranked in the ESPN 300, and 20 are still uncommitted. Perkins is the highest-ranked linebacker in the class and a five-star, followed by Shawn Murphy, who is the No. 32 recruit.
Perkins hasn't come out with a top list yet, but he has visited LSU, Texas and Texas A&M this month, and he said he wants to eventually visit Oregon and Florida as well.
Cornerback
Top committed:
Travis Hunter
Florida State
Hunter was a huge get for coach Mike Norvell and his staff. They are selling prospects on the idea of rebuilding Florida State, and that process is a lot easier with five-star prospects as talented as Hunter.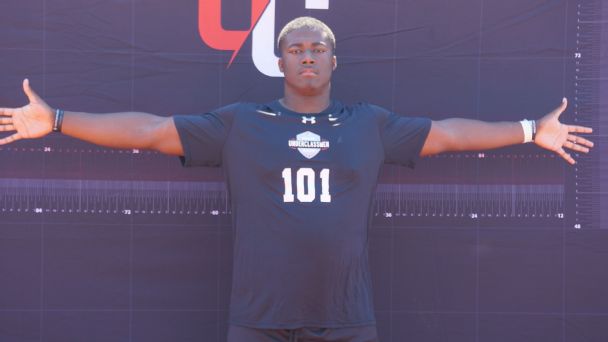 A quarterback may be the No. 1-ranked prospect, but there are five defensive players among the top six recruits in the Class of 2022. The complete ESPN 300 »
He is a 6-foot, 165-pound corner out of Collins High School in Suwanee, Georgia, and is the No. 4 overall prospect in the class. Hunter is the highest-ranked commit for the Seminoles since defensive tackle Marvin Wilson signed in the 2017 class when Wilson was also ranked No. 4 overall. Wilson, running back Cam Akers and defensive end Joshua Kaindoh in that class were the last five-stars Florida State had until now.
Top uncommitted:
Denver Harris
ESPN 300 rank: 20
There aren't as many uncommitted corners compared with other positions — 12 of the 29 ESPN 300 cornerbacks are still uncommitted. The top three are already committed in Hunter, Domani Jackson (USC) and William Johnson (Michigan).
Harris is the No. 4 corner and the No. 20 prospect overall in the class. He's a 6-1, 185-pound recruit out of North Shore High School in Houston and is heavily considering Texas, Alabama, Texas A&M and LSU. It seems as though Texas has been making a big push, but he's still taking visits and going through his process.
Safety
Top committed:
Jacoby Mathews
LSU
Mathews, a 6-2, 210-pound safety out of Ponchatoula (La.) High School, is the No. 56 prospect overall. He's the fifth-best recruit in the state and the No. 3 safety overall.
He has been committed to LSU since April and is part of a really good defensive back haul for the Tigers in the 2022 class. He's joined by ESPN 300 corners JaDarian Rhym and Laterrance Welch as three of LSU's 10 total ESPN 300 commitments.
Top uncommitted:
Kamari Wilson
ESPN 300 rank: 38
Safety is another position group with a lot of top prospects who are uncommitted, as 14 of the 22 ESPN 300 safeties have yet to make a decision. That includes eight of the top 10 safeties in the class, with Wilson leading the way.
He's the No. 38-ranked recruit overall from IMG Academy in Bradenton, Florida, and released his top six back in April: Florida, Florida State, Georgia, LSU, Miami and Texas A&M.
Wilson has taken visits to Florida, LSU, Miami, Mississippi State, Auburn and Georgia Tech and says he is going to visit Texas A&M before the month is up.